Adding kerb appeal doesn't necessarily mean repainting your entire house or having a new period frontage put in. A simple front door replacement in a paint colour of your choice can do the trick. When it comes to choosing a colour for bespoke wooden doors, blue will always stand the test of time.
Your Front Door Is an Opportunity to Show Your Personality
Timeless in its appeal and a huge variety of shades to choose from, blue works in harmony with most property types. From deep navy, classic blue similar to this year's Pantone colour of the year, lighter powdered blues or duck egg, finding the perfect shade for you can be a matter of deciding what mood you want to create.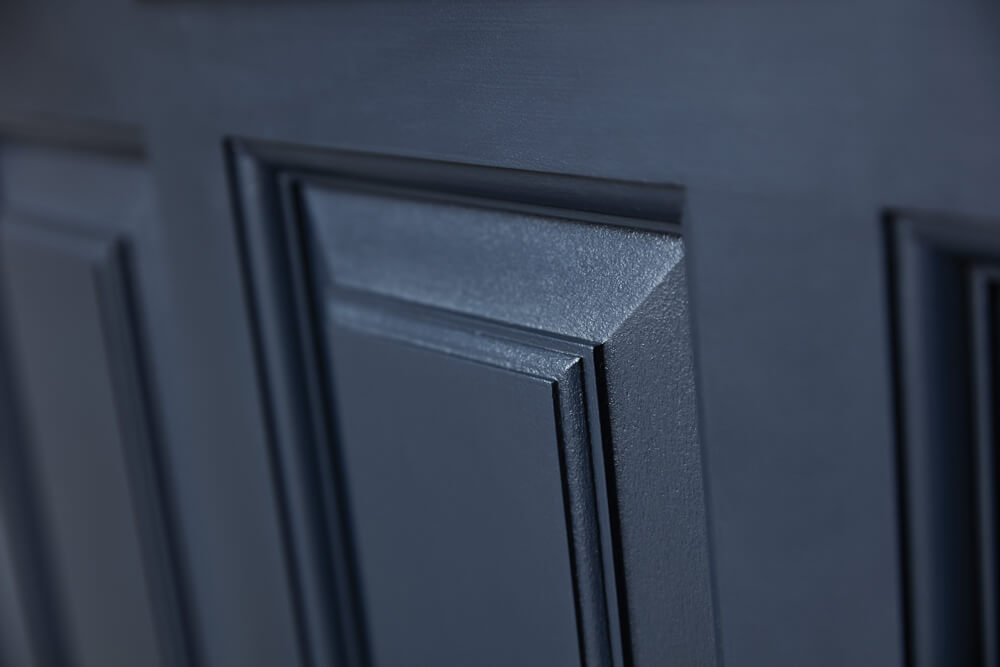 The colour blue is often associated with calmness, intelligence, relaxed nature, inspiration and strength. Different shades have different qualities. If you mean to create a serene and friendly feel, then light earthy powdered blues are a popular choice. If it's a grounded, prosperous and strong look you want to achieve, then navy and classic blues are the ones for you.
Beautiful Blue Bespoke Front Doors
At London Door Company, we understand that no two people are the same, which is why we offer a carefully selected range of bespoke paint colours. Why not take a moment to be inspired by some of our beautiful blue bespoke wooden doors.
Traditional Shades – Oxford Blue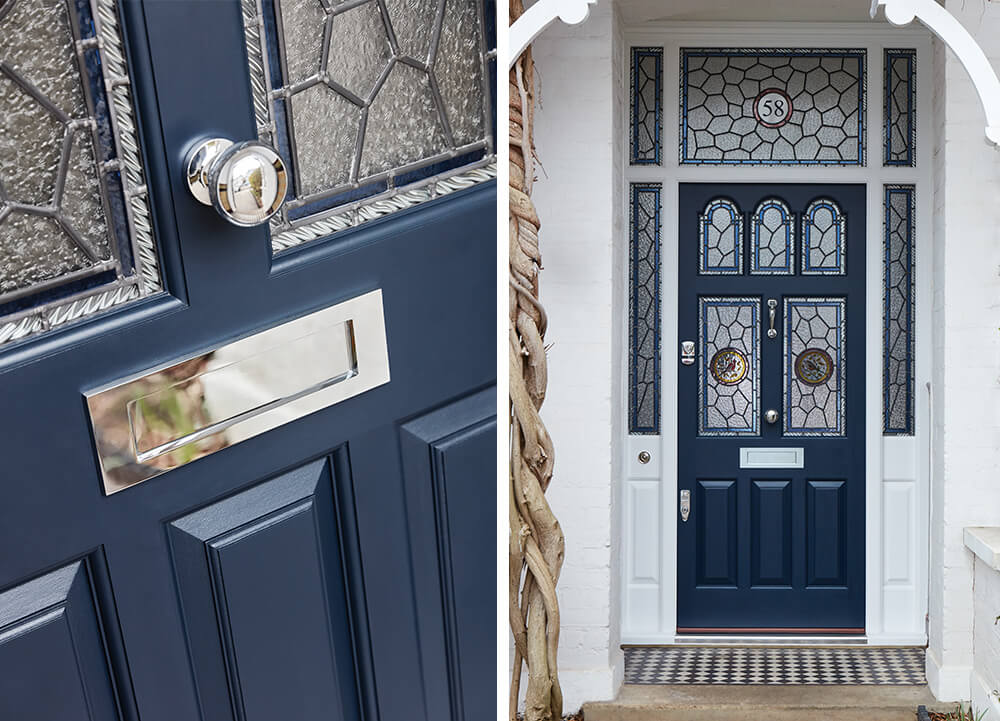 Navy is a fitting choice for Victorian or Georgian period homes. It's a colour that never goes out of style, giving your home a timeless yet striking appeal. Darker colours such as Oxford Blue can kindle a feeling of energy, strength and grounding. Combine with chrome door furniture and elegant glazing, and you can create something that will be the envy of your neighbours.
Add a Pop of Colour with Cornflower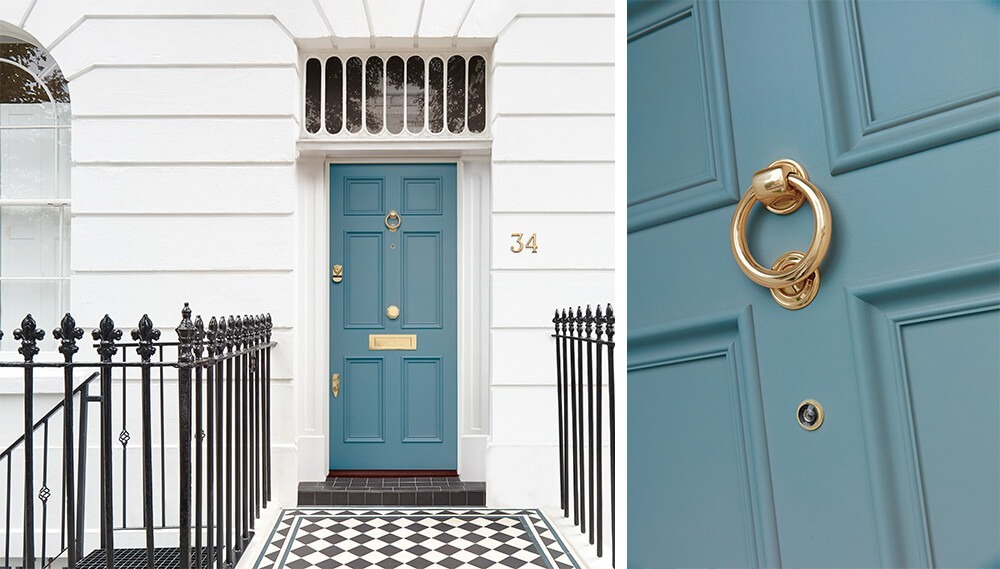 Both a creative and cheery shade of blue, Cornflower works well on classic four and six-panel doors, adding an unexpected but stylish burst of colour. This inviting shade complements pristine white stone façades and black and white tiling, giving them an instant lift. If you want to inject a little more personality and enhance the colour further combine with warm brass door furniture.
Calm Cool Blues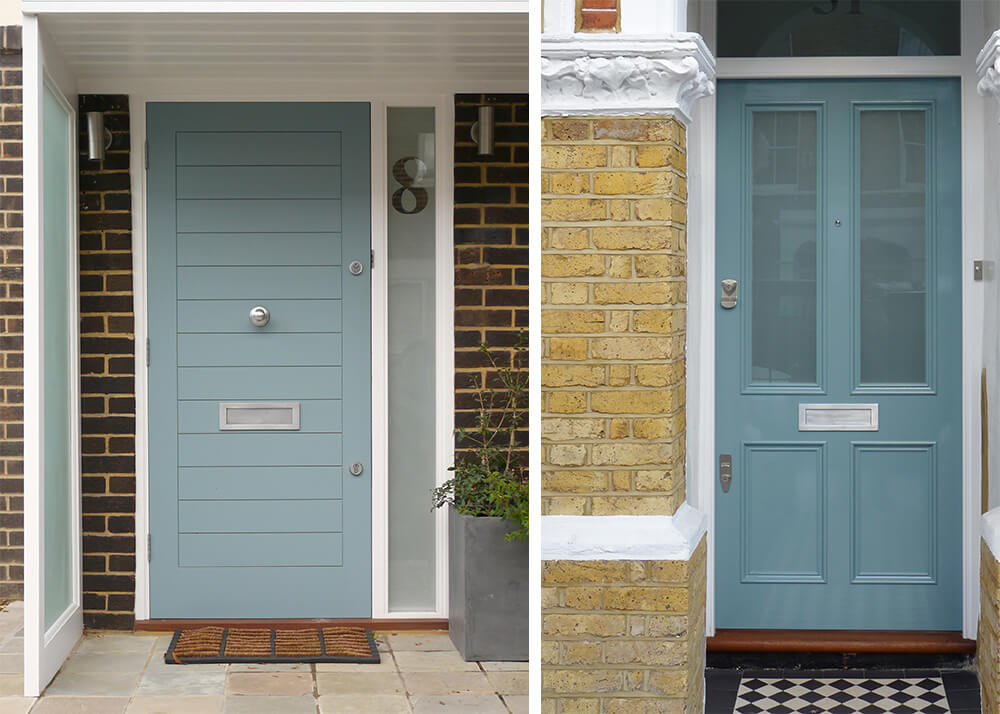 Modern homes with a linear, flat frontage or classic Victorian terraces can benefit enormously from having a front door painted in a pastel shade. For those that are colour shy, these serene shades of blue are brilliantly versatile and can instantly lift the front of your home without being too over the top. Our contemporary front door painted in a light duck egg combined with chrome door furniture creates an unforgettable impression. Even with lighter blues, you can really make them pop by painting frames in bright white or incorporating opaque glazing or fanlights.
Painted by Hand
Bespoke wooden doors hand-painted in the right colour can create the ultimate first impression and help your home to stand out from the rest. We believe that a hand-painted finish gives your door a more authentic look. Whether you choose a natural finish or a coloured paint, a gloss or a matte, every door from London Door Company is expertly finished by one of our highly skilled painters for an impeccable, high-quality end-result. Our materials are of an exceptional quality to ensure that, with cleaning and care, your paintwork will look fresh for longer.
To discover all of our bespoke front door colours, why not request our brochure today.