It's relatively easy to decide what style of front door suits your home, but what about when it comes to choosing your front door colour?
Property experts claim people will decide in the first 10 seconds whether they like a property, based solely on its kerb appeal. So, whether you're looking to sell your home in the near future or simply want to be the envy of the neighbourhood, it pays to know a little more about choosing the perfect colour for your home.
Like most bustling cities, London is home to a mixture of property styles. You'll find Georgian homes built from 1714 to 1830, Victorian period properties constructed between 1837 and 1901, Edwardian Arts and Crafts homes from a short period around 1901 to 1910 and 1920s/30s properties that are unmistakably Art Deco. When it comes to historical accuracy, our own research has enabled us to create a colour palette that stays true to period styles as well as giving you scope to add your own personal touch.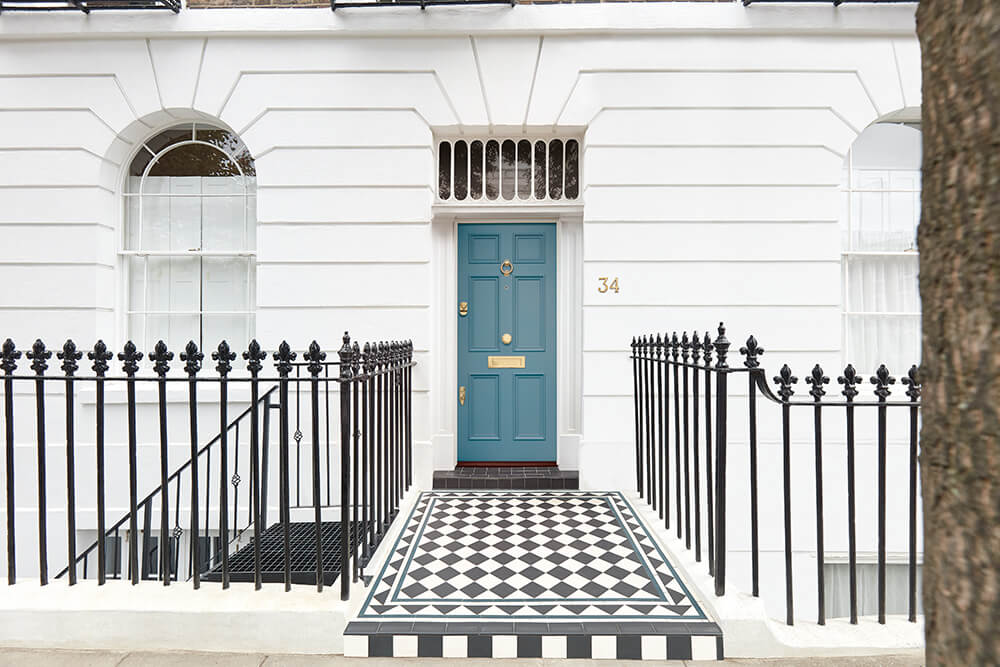 Adding Value with Timeless Front Door Colours
Kerb appeal matters. The right colour on a luxury front door not only helps to create the ultimate first impression but can actually add thousands to the value of your home. With the housing market open once again, SellHouseFast.uk recently explored what factors can contribute to a shift in market value. Their analysis of over 1000 properties listed on Zoopla in the UK found that blue front doors can add up to £4,000 to your home's value, red can add £1800, black £1000 and green £500. While it's still important to choose a colour that suits your personal taste, opting for one of these timeless shades or a neutral colour can ensure potential buyers are not put off.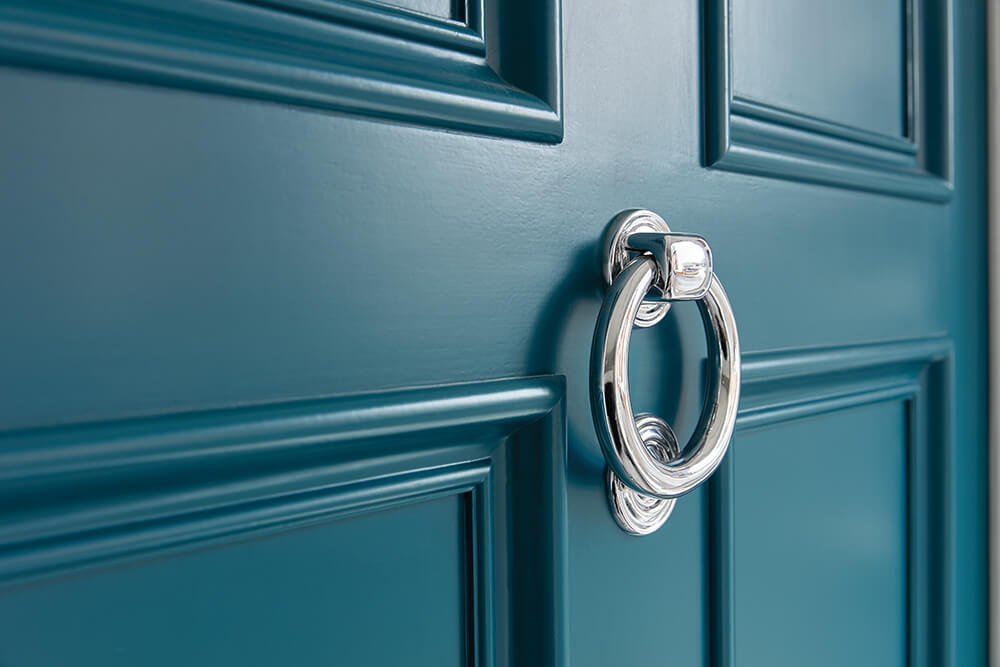 When it comes to choosing a colour firstly, you need to consider the style and period of your home. Is it contemporary or traditional listed property? Do you live in a conservation area or one with strict rules on neighbourhood door colours? Maybe there are characterful elements that frame your entry? Or statement tiles or brickwork to complement?
Our guide below will help you to determine the right colour for your property, adding coveted kerb appeal and welcomed value.
Classic Georgian Architecture
Classic Georgian architecture was built during the 18th century and is easily identifiable as they are often very symmetrical, arranged over three storeys with flat fronted facades. Famous London architect John Nash was responsible for some of the most iconic Georgian designs including the original Buckingham Palace. Typical Georgian doors around this period were usually set centrally with distinct symmetrical windows at either side. Our research revealed that doors around this period were painted in dramatic shades of black often adorned with ornate brass door furniture. Dark colours work particularly well with the soft neutral brick or white plasterwork which usually appears on Georgian façades.
While black isn't the most eye-catching shade, it is one of the most popular front doors colours adding sophistication and timelessness to your property. It's associated with power, mystery and calm, so it's probably no coincidence that the country's most famous Georgian front door is painted this strong colour.
Distinctive Victorian Doorsteps
Typically, many Victorian properties can be identified by their use of intricate detailing. Between 1837 and 1901, there was a boom period of house building in the capital. As space was at a premium, the terraced home became popular. A Victorian front door is a grand affair as many people in this period would showcase their wealth and standing in the community by designing elaborate front doors – often with intricate stained glass panels and sidelights. Because the Victorians understood the power of kerb appeal, porches and doorsteps had geometric tiling which was often reflected in the paintwork of the door.
A red Victorian front door wouldn't have been such an unusual sight. The Victorians enjoyed colour as much as we do so opulent colours such as cherry red and British racing green were popular choices, which often worked well with the classic yet sophisticated aesthetic and coloured brickwork. Red is the colour of passion and is perfect for adding a dramatic flair to your front door, whether you own a period property or not. It's bright, bold and suggests that the person behind it is confident.
Elegant Edwardian Home
Edwardian homes were built in the brief period from 1901 – 1910 but homes made in the years just before 1920 also shared Edwardian characteristics. Many were square-fronted villa style homes in a semi-detached style with large windows, imposing front doors and small front gardens. In this short period, front doors started to get lighter and more colourful with blue being the most popular shade contrasting beautifully with red brickwork and mock-Tudor cladding.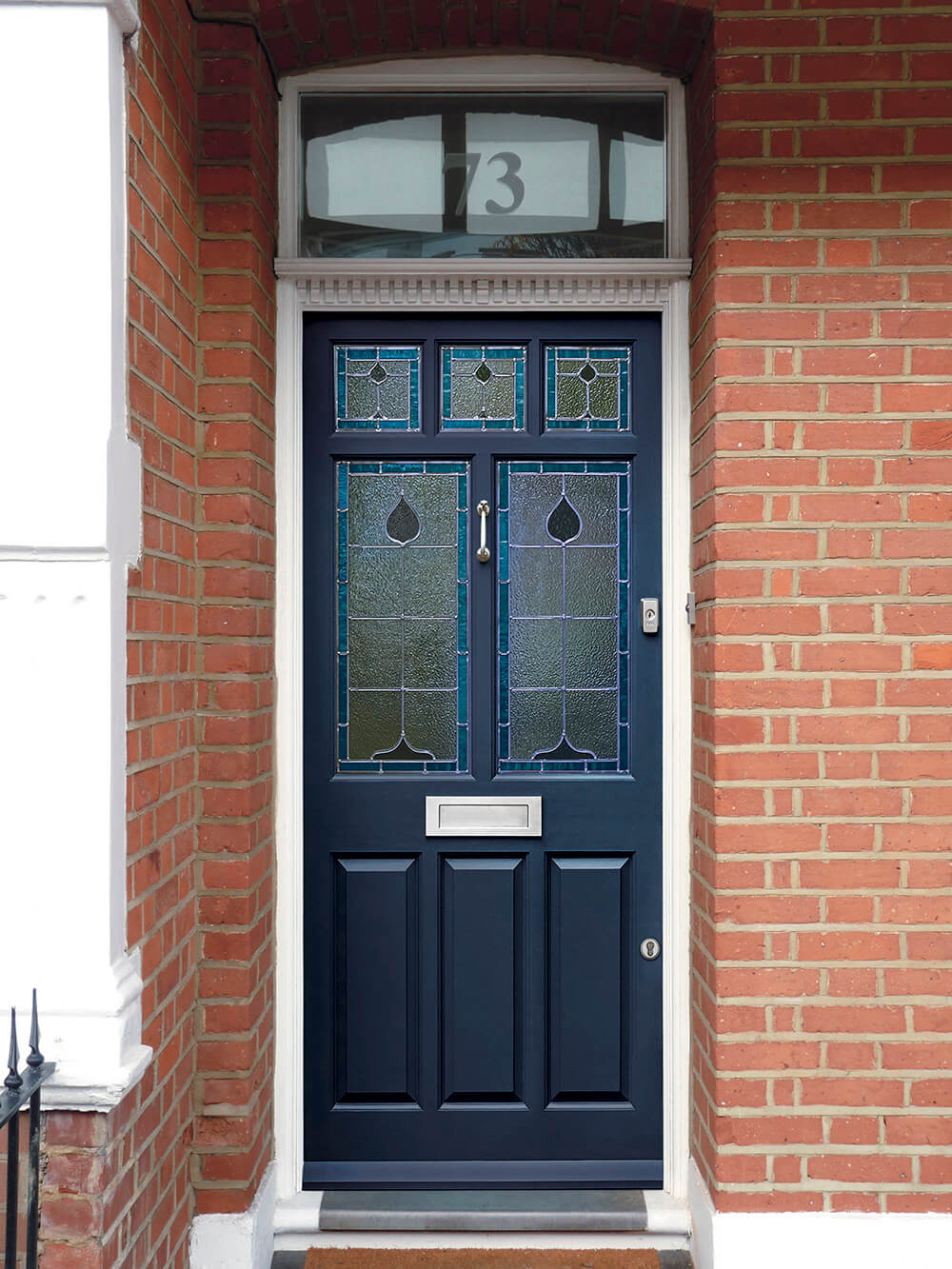 According to SellHouseFast.uk research choosing blue for your front door can add the most value to your home. Timeless in its appeal and a huge variety of shades to choose from, blue works in harmony with most property types. It's a colour that's often associated with calmness, intelligence, relaxed nature, inspiration and strength. Different shades have different qualities. If you mean to create a serene and friendly feel, then light earthy powdered blues are a popular choice. If it's a grounded, prosperous and strong look you want to achieve, then navy and classic blues are the ones for you.
Art Deco 1920s/30s Properties
The style that defined the period between the two world wars was unmistakably Art Deco. The semi-detached property, a feature of many city suburbs, is typical during this time. They had a wealth of features; some are art deco in style with sharp, geometric designs such as rectangular bay fronts and window panes, others have been influenced by the Arts and Crafts movement and have mock-Tudor frontages. Doors were planer with three vertical panels, higher letterboxes and were symmetrical in style.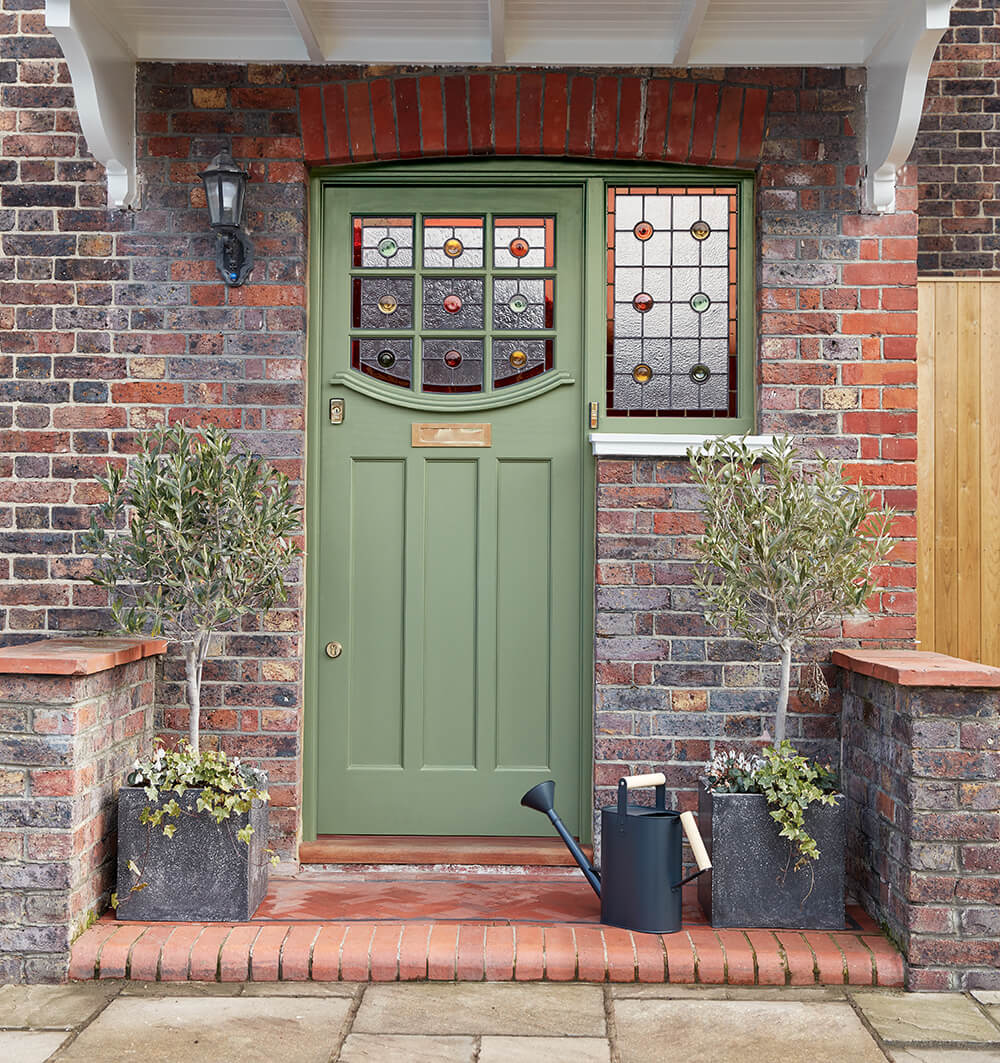 1930's doors were often painted in fresh greens and playful teal shades. Design experts often advise people who are struggling to sell their homes to paint their front doors green to enhance their home's kerb appeal.
Most colours have a particular significance or traits attached to them. This versatile colour evokes the feeling of nature, vibrancy and life, often suggesting that the person who chose the colour green is in tune with the world around them.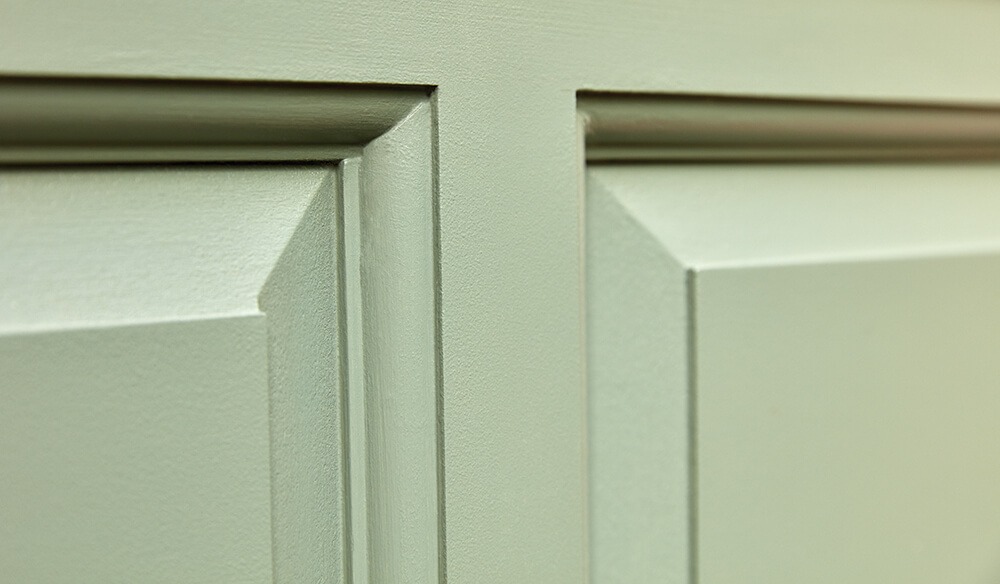 Contemporary New Builds 
Every front door, whether it's a Victorian-style or contemporary design, can be enhanced with colour to create an irresistible first impression for potential buyers. Modern architecture is both beautiful and functional, which is one of the reasons it has flourished as a style. Identified by their sleek, straight lines, the use of sustainable materials and an opportunity to experiment with fresh ideas in design, new buildings can be anything from unusual and quirky or stark in their simplicity.
Grey is a colour that never seems to go out of style, yet it manages to add kerb appeal and sophistication to any home. It's a timeless neutral, which makes it a really popular choice for new build homes and renovated properties. Lighter greys like silver, dove and oyster create a calm, tranquil look and can make your home appear larger. In contrast, pale greys work wonderfully with opaque glass and can be an attractive complement to luscious greenery – a consideration if foliage frames your front door.
Our designers painstakingly research designs and details from the period of every home to ensure that each door design is truly sympathetic to the age of the house. From structural details such as panelling to aesthetics like paint colour, our time spent on historical research brings up the results required to recreate original concepts that respect the elegance of London's stunning architecture. Whether you opt for blue to sell your home or a more timeless shade of grey, the choice is yours.
Why not take a moment to be inspired by some of the beautiful front door colours we have on offer, request our free 2020 brochure today to discover more.