Victorian architecture is characterised by rows of terraced houses and elaborate architectural details such as ornamental stonework, multi coloured brickwork and intricate tiling at the entrance and hallway of the home. Many of the larger terraced houses you see in towns and cities were built during this period as it was a time of increasing wealth in the wake of the Industrial Revolution. These homes can be identified by their impressive bay windows, designed as places where people could sit and read or write letters. This property with our impressive pink door is a fabulous example of how a traditional Victorian terrace house can be transformed with a contemporary paint colour, and a little care in restoring original features.
 Smaller Victorian homes were classified as 'two-up, two down' with just two rooms on each floor. Front doors in these homes made good use of glass to allow extra light to flow in. Glass in a Victorian door is often coloured and decorative to maintain privacy and to add interest. These days this style can be expertly recreated using time-honoured skills and strengthened glass that will be secure, help to reduce noise and retain heat inside the home. Victorians, like us today, enjoyed having fun with colour and pattern. This sense of creativity and style extended to the place where first impressions matter most – the front door.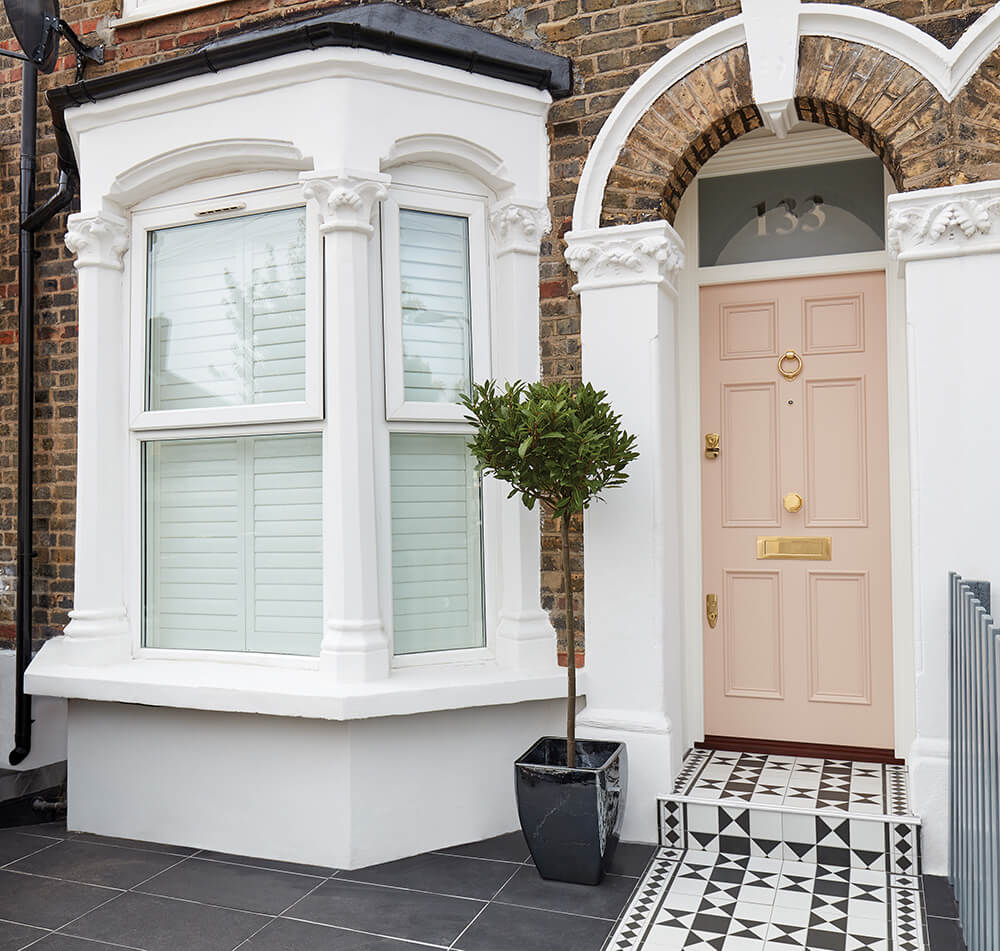 Milk Thistle Pink
Each of our high-quality doors is crafted from the finest materials and individually hand-painted in a colour of the clients choosing. Pink is a wonderfully versatile colour and available in a spectrum of shades to give your front door a fresh and distinctive appeal. This stunning pink door is painted in 'Milk Thistle' a delicate, delightfully inviting shade that works particularly well with the façade of this Victorian home.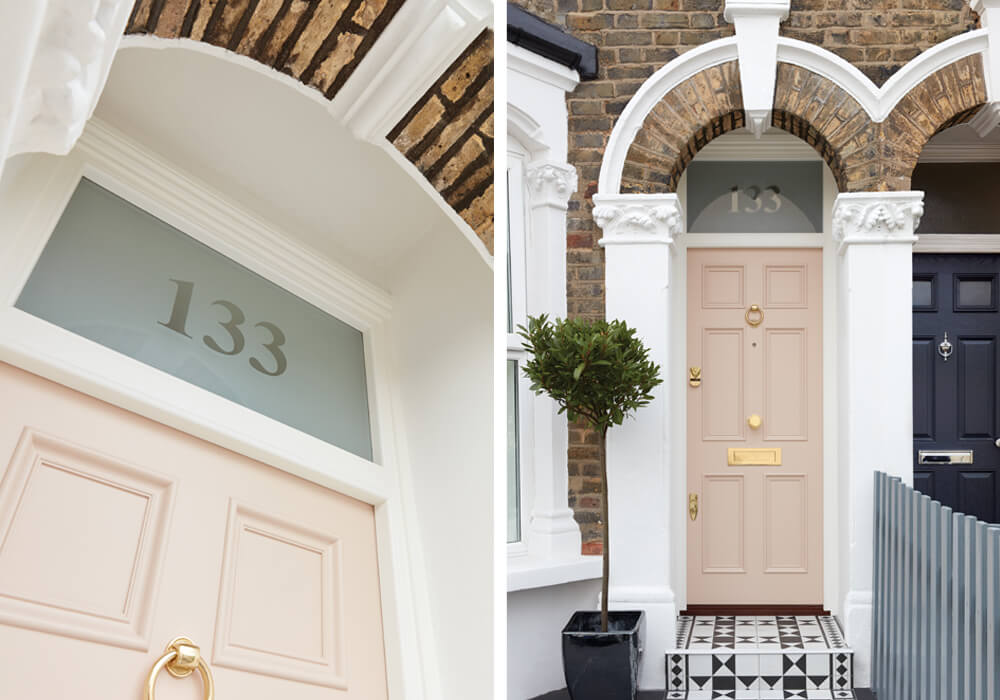 The pink door contrasts perfectly with a white painted frame and pristine plasterwork as shown here. Because Milk Thistle is a soft, neutral shade of pink, it compliments green, making it an excellent choice for homes with plenty of plants, shrubbery and foliage close to the front door. It truly demonstrates how modern interpretations of a traditional colour can enhance and complement authentic Victorian design.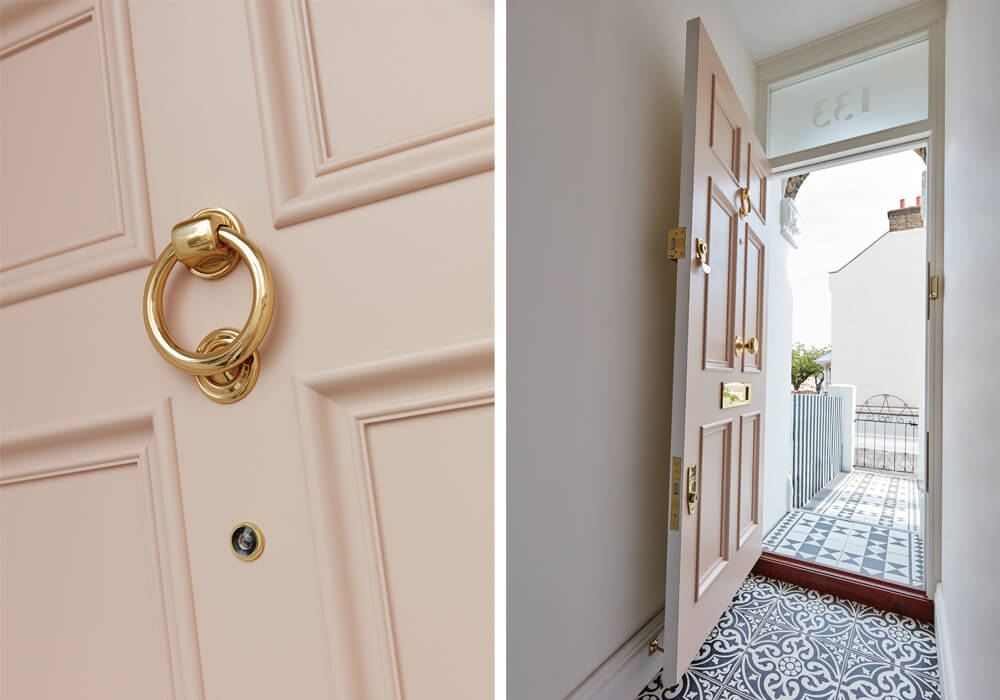 Colour Psychology
Pink in all of its forms signifies romance, passion and creativity. It has many positive associations. Calmer shades suggest tenderness and care, fitting as it's the first feature you see when approaching the home.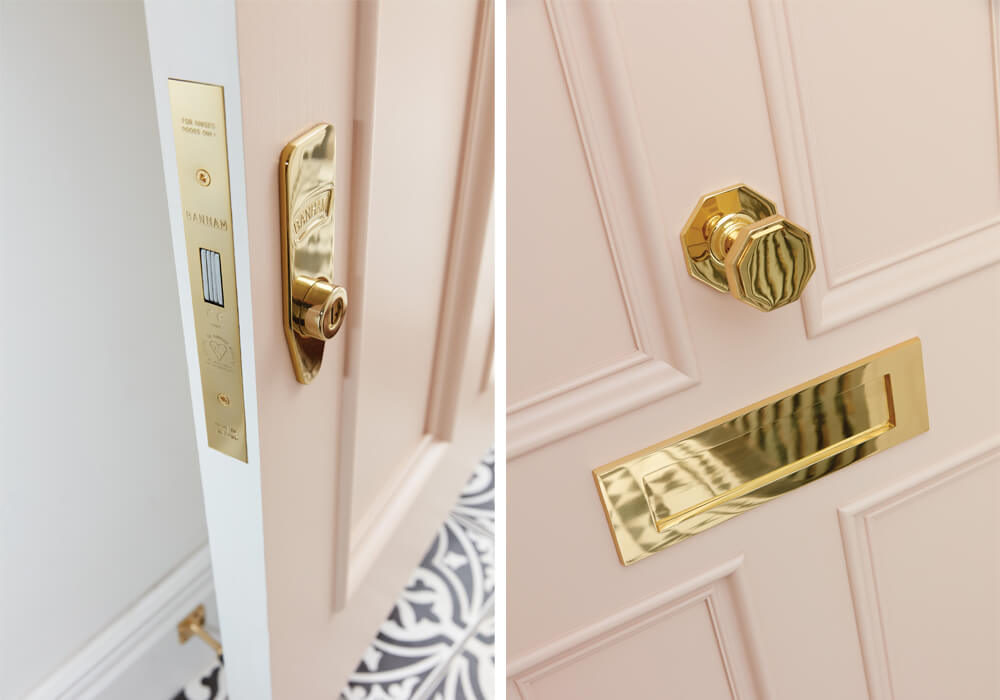 Door Details
Even if you're not a 'pink person', there's no doubting that this front door looks elegant and inviting. The delicate colour was chosen by the owner of this property to beautifully enhance the striking black and white original tiles and pristine plasterwork at the entrance. Hand-painting the door achieves an authentic look, every inch expertly finished ensuring a flawless look. The Victorian brass door furniture offsets the door colour. Crafted brass door furniture is typical of the era while the hexagonal shape of the handle and locking systems add a contemporary touch. While it might look delicate, the quality of the paint is so hard-wearing just an occasional wipe with a soft, damp cloth is all that's needed to keep this front door in the pink for years to come.
To find out how a Victorian Front Door in Milk Thistle could enhance the kerb appeal of your home book your free design visit today.