Georgian design is named after the four Kings who sat consecutively on the throne of England from 1714 – 1830. The period is defined by a distinctive style of architecture with a classical influence which can famously be seen at the Royal Crescent or Circus at Bath, or in the stunning townhouses in central London. As well as their stunning details London Townhouses are often finished with impressive Georgian style doors.
The Georgians were famous for loud living and impeccable style – the most flamboyant examples of which emerged during the future George IV's Regency when he built The Pavilion in Brighton. Not typically Georgian, it still embraces the sentiment of the time. Properties were solid, symmetrical and just like the classical buildings they sought to recreate – built to last.
How to spot a Georgian Style Door
Georgian and Regency front doors can often be distinguished by their size and thickness. Symmetry is key, and so they are usually centrally positioned at the front of the property with an even number of same-sized windows to either side of it. These doors make a statement and are perfect for creating an unforgettable first impression.
Characteristics
Front doors from the period feature four or six panels and are of solid construction. Authentic doors were usually painted in neutral colours, typically either black or white. Today Georgian style doors look incredible in a range of colours from muted pastel shades to eye-catching primary colours. A high-quality finish will protect the door and help it to retain its appeal for years to come.
Porches and pathways
The front doors of terraced townhouses tended to open straight onto the road, with no porch. Some properties may have decorative black-painted iron railings that surround a short pathway leading to the front door. These pathways are often decoratively tiled and a typical design of the era is the black and white checkerboard style. This is a beautiful yet effective technique that can be recreated to give your Georgian front door an authentic feel.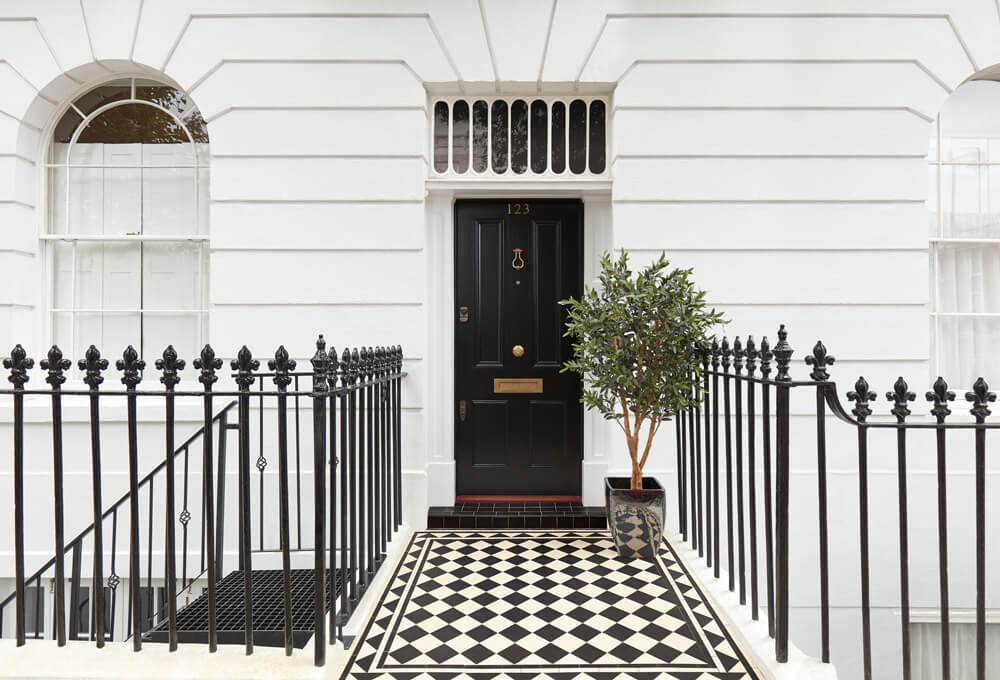 Fanlights
Because rooms were built either side of a central hallway, Georgian properties often had windowless entrances with high ceilings. Due to this, doors would feature fanlights to let natural light flow into the home. These fanlights can be square or arched and would feature either no decoration or very simple designs. These days the fanlight of a Georgian door is often used to display an oversized door number to striking effect.
Accessories
The Georgians loved topiary. Add a modern twist to your front door with carefully clipped shrubbery in pots or go for perfectly round bay trees. It's important to remember that you'll need to have one at either side of your front door to stay true to the Georgian love of symmetry. If you are considering lighting, a Georgian style carriage lamp hung high above the centre of the door or two placed at either side will give your door a beautiful, romantic glow after dark.
Remember, proportion is key to recreating or renovating Georgian style. Maintain an uncluttered, elegant façade with pristine paintwork, framed by clean stone or red brick. A black or bright red door looks striking against a whitewashed façade.