Like most bustling cities, London is home to a mixture of property styles which have dramatically evolved over the past 500 years. The development of an industrial economy, mass growth in population, design/ technology advancement and now the current pandemic are all drivers for architectural change. So, how have London homes and their period front door styles changed?
Depending on which neighbourhood you visit in London you'll come across a unique mixture of architecture. You don't have to look very far to see the amalgamation of styles from the Millennium Bridge to St. Paul's Cathedral and the Royal Albert Hall to the Barbican's Brutalist architecture. When it comes to residential homes, London's streets are packed full of history. Rows of Georgian townhouses built from 1714 to 1837 make way for Victorian period properties constructed between 1837 and 1901. You will also find exquisite examples of Edwardian homes built between 1901 to 1920 and 1920s/30s houses that are unmistakably Art Deco.
If you have a period property, chances are you will also have a period front door in keeping with your home's architectural charm. Although original front doors are beautiful and sympathetic to the time, they might not be as effective as a modern-day design. London Door Company are experts in designing doors that are authentic to the original but with modern-day features that will keep your home safe, secure and warm.
London Property Timeline
The below locations have some of the most exquisite examples of period residential properties across the capital. From Georgian townhouses to contemporary new builds, each with sought-after details that make a period property truly unique.
Islington – Charming Georgian Homes
Similar to most central parts of London, Georgian homes feature heavily in Islington amidst its leafy streets and famous squares. With its mix of trendy shops, restaurants and vivid culture, it means the area is favoured by families wanting to stay in the area long term. Some of the most trendy roads include Highbury Place, Thornhill Square and Richmond Crescent.
Georgian homes were built during the 18th century and are easily identifiable as they are often very symmetrical with flat fronted facades. The design was all about proportion and balance, often with sash windows and a six panelled front door centrally set. Yellow bricks replaced red bricks to give homes a more stone-like appearance while windows and iron railings remained dark for a more classical refined look. As the 18th century drew to a close, households found themselves with more income. Decorative features such as Juliette balconies, porticos and columns started to appear around entrances.
Front doors found in Islington feature four or six panels and are of solid construction. Authentic doors were usually painted in neutral colours, typically either black, green or white with ornate brass door furniture. At London Door Company, you'll find a selection of Georgian door designs that can be hand-crafted to recreate the original style.
Richmond – Victorian Leafy Streets
Richmond is a perfect area for families seeking larger homes close to central London. This popular area is mostly made up of Victorian detached and terraced houses, as well as picturesque Georgian cottages and period home conversions. The most attractive properties are located around The Green and Petersham Village.
For a home to be classed as Victorian, it should have been built between 1837 and 1901. That's a timeline of 64 years, so you can imagine how many homes in London are genuine Victorian properties which expand from the city to the suburbs. Housing ranges from large family types to smaller back-to-back terraces. The architecture was often characterised by pitched roofs, multi-coloured brickwork, elaborate features such as ornate bargeboards and bay windows with large single panes which set them apart from Georgian designs.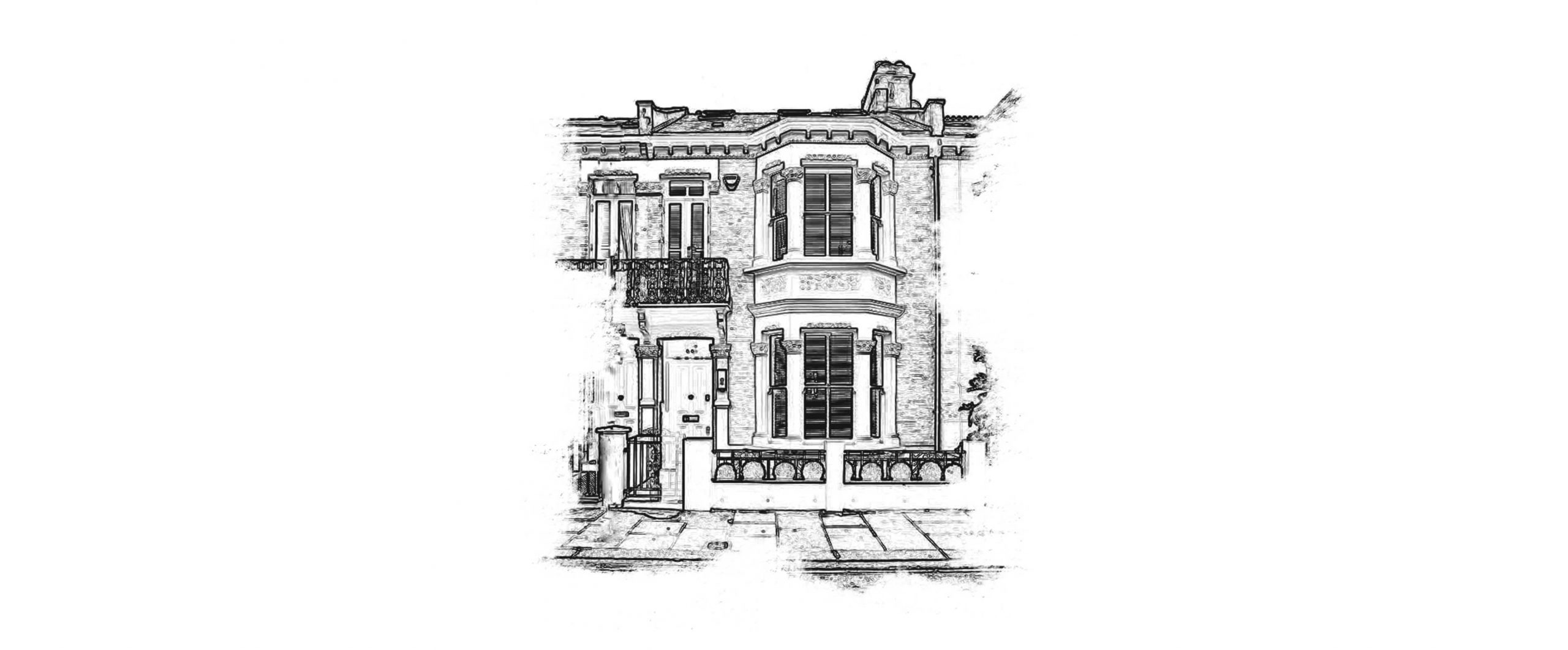 A Victorian front door is a grand affair as many people in this period would showcase their wealth and standing in the community by designing elaborate front doors – often with intricate stained glass panels and sidelights. Because the Victorians understood the power of kerb appeal, porches and doorsteps had colourful, patterned tiling which would be often reflected in the paintwork of the door. The Victorians enjoyed colour as much as we do so opulent colours such as cherry red and British racing green were popular choices, which often worked well with the classic yet sophisticated aesthetic and coloured brickwork.
Balham – Green Spaces and Victorian Family Homes
Balham's plethora of green spaces and its Victorian and Edwardian architecture make it the ideal location to bring up a family. The Victorians were famously responsible for building homes for those working in factories. As well as these more affordable dwellings, larger properties were also built as the middle class were experiencing wealth for the first time. With an increase in both housing types, you'll find a mix of terraced and large double-fronted Victorian houses with gardens in Balham especially in the Nightingale Triangle area.
The Victorians were lovers of quality and stability and certainly knew how to build structures to last. Thanks to their solidity and charm, a Victorian home will hold its value, making them a popular choice for many buyers today. With house prices in this area doubling in the last five years and larger properties now coming up for sale, it's no wonder there's been a surge in conversions to flats and people moving to the area from the inside the city.
This property with our impressive pink door is a fabulous example of how a traditional Victorian house can be transformed with a contemporary paint colour and a little care in restoring original features.
Kensington – Famous Victorian Mews
One of London's most sought after areas, Kensington is famed for its large houses, cute mews streets and hidden gardens. Originally built in the 18th and 19th century for stable horses, mews houses are now some of the most sought-after homes in London. Found along quiet cobbled lanes, with pretty exteriors and often beautifully painted front doors they provide the perfect space for stylish city living.
According to Zoopla, the Royal Borough of Kensington and Chelsea has one of the highest average property values in London, which is why most of its buyers are there for the long term making it hard to snap up one of these stunning quintessentially British properties.
Walking down these mews streets, you'll find some striking London doors which often become famous on Instagram and Pinterest, particularly in spring months when the blossom and wisteria appears. Inspired by their surroundings, front doors are an opportunity to show off your personality and flair, they can be painted in beautiful pastel shades or a dramatic black to match pristine paintwork.
Some of the prettiest mews streets in Kensington include Kynance Mews, Ensor Mews, Redcliffe Mews and Prince's Gate Mews.
Wimbledon – Classic Mix of Edwardian and 1930s Properties
Home of British tennis this well-loved area is full of charming cafes, outdoor spaces and stunning properties that are well connected to the city. 1930s developments and renovated Edwardian properties are found throughout Wimbledon, making this area popular with Chelsea families wanting larger homes and gardens according to Homes and Property. Unlike Victorian period properties which had separate living space for servants, Edwardian dwellings were built to be more spacious with larger hallways and leafier plots surrounding them.
Edwardian design defines the era between 1901 and 1910, but its influences can be seen in homes built in the 1890s and just before World War I. The Edwardian period heralded a new century and new possibilities; people were taking to the roads in cars and the skies for the first time. The Art Nouveau movement was coming into its own, a time of innovation and imagination. While the Edwardians weren't afraid to take architectural influences from other periods of history, the end result was distinctively Edwardian. Larger brick houses from this period often have solid timber beams in their façades and porches which could have been an attempt to give homes a 'Tudor' look. Decorative features became lighter in colour and style, moving away from the heavy gothic influences of Victorian times.
Period front door styles were often large and heavy, creating imposing doorways. However sturdy the real thing looks, it's unlikely to incorporate the hi-tech security systems and strong locks of a modern door. Edwardian doors were elegantly carved and surrounded by wooden or stone porches. Designs of this period often feature colourful Art Nouveau style stained glass sidelights and fanlights which can be restored or refurbished.
Battersea Clapham South – Art Deco Industrial Landscape and Modern Developments
South-west London has a fantastic mix of Art Deco and modern new build homes. Most famous of all the Battersea Power Station which was built by Sir Giles Gilbert Scott in 1932. This trendy Battersea area is now seeing a huge transformation as part of a new riverside quarter with homes designed by some of the world's best architects.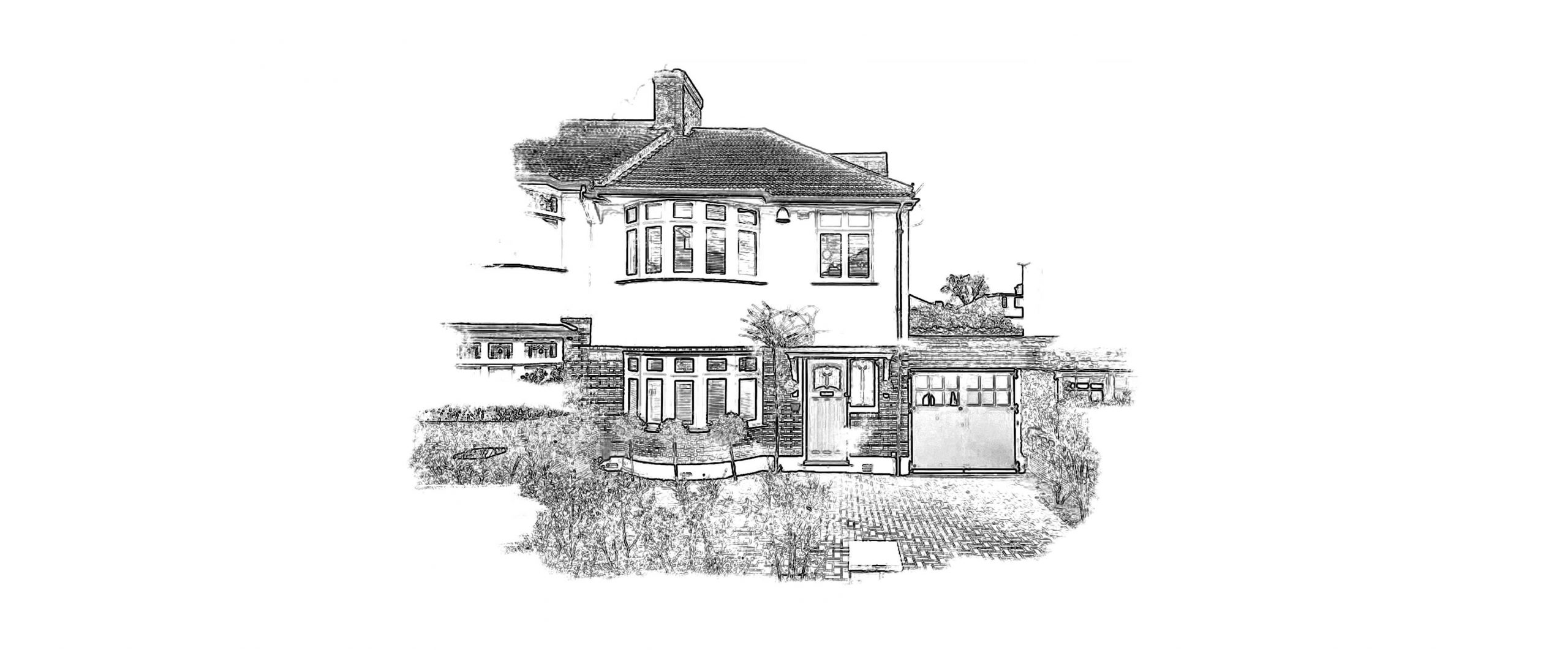 The years between the wars saw a rise in homeownership and a boom in house building. These suburban developments included semi and detached houses with more space built on cheaper land on the outskirts of the city. Many 1920s and 30s homes had a single, large window to one side of the period front door, flat roofs, metal railings and were of brick construction. Doors were planer with fewer panels and were symmetrical in style. Those with glazing often featured art deco designs such as the famous 'sunburst' glass panel.
Although Art Deco homes aren't to everybody's taste, these properties around Battersea and Clapham South now offer fantastic renovation opportunities which have seen investors snapping them up quicker than ever. City A.M revealed the constant demand for housing now means that Battersea now has 14% of new build properties for sale along with other boroughs such as Southwark and Islington.
A statement front door gives every home a twist of individuality but, as always, it's best to stay true to the building's established style. Your door should fit the façade of your home and preserve the integrity of its character. If you're considering a new front door for your home, why not take a look at all of our period style front doors here or order your free 2020 brochure today.