Coming home to a front door colour that you love is a wonderful way to bring joy to you – and your visitors – every day. When it comes to creating an envy-inducing exterior, few home improvements have as much impact as updating your front door. After all, your entrance sets the stage for what's to come inside your home, offering a tantalising glimpse of your interior style.
The colour you choose for your front door doesn't just play a starring role in creating that all-important first impression, it can also spark emotions that create a positive response from the off. And property experts say this can even make a significant difference to the value of your home, with the most inviting entrances helping to secure the viewings needed to maximise sale prices.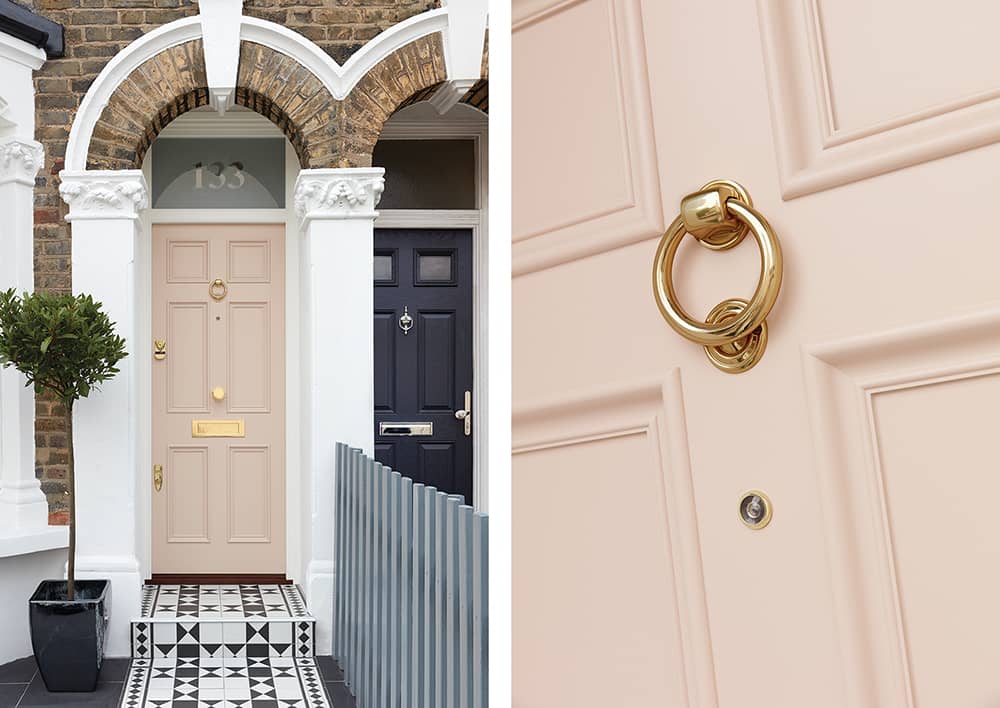 Our Expert Tips on Choosing the Right Colour for your Front Door
But, with 36 fabulous shades in our extensive colour palette, how do you make the right choice?
According to our expert designers, the key to a look that feels cohesive and harmonious throughout lies in selecting a shade that both resonates with you personally and works well with your home's interior décor, existing exterior features and architectural style.
Considering the colours you've used inside helps maintain a feeling of flow as you move through your home, and working with the hues of your brick or stone, porch and planting and windows and shutters allows you to create a look that compliments your property perfectly.
Looking for a little inspiration to fire the imagination? From restful, nature-inspired tones through hues that ooze classic sophistication to joyful brights, join us as we explore some of our current favourites.
Beautiful Blues
Consistently the world's favourite colour, blue tones are shown to create a sense of peace and safety, giving off an easy-going, family feel that's relaxed and approachable.
Evoking the happiness of a clear sky and the tranquil lull of a calm sea, this restful colour is known to reduce stress and anxiety, making it a wonderful front door choice to set the stage for a warm and comforting welcome into your home.
Above, our expert designers chose a muted grey-blue to set off our contemporary door, which looks stunning framed by lush planting and brings an elegant modernity to the property. For the timeless sophistication of a Georgian frontage, the perfect choice was our 2-Panel Georgian Door finished in a regal Royal Blue – a shade which will look stylish and up-to-date for many years to come, and creates a grand focal point for a memorable entrance.
Our experts' top tip:

At the lighter end of the colour wheel, paler and more muted blues work well in larger doses, offering a soft pop of colour which works magnificently against delicate florals and greenery without overwhelming the facade of your home.

In Feng Shui, Blue is a wood element colour associated with new beginnings, healing and growth.

For those who prefer a bolder, deeper shade, darker blue hues bring elegance, sophistication and a sense of peace, and work especially well in providing an accent against the warmer tones of stone and brickwork.
Serene Greens
Redolent of nature, renewal and harmony, wholesome greens symbolise growth and balance, with tones ranging from calming and soft through vibrant and fresh to lush and rich.
A green front door evokes an immediate sense of tranquillity and relaxation, suggesting a connection with the natural world that helps you and your visitors feel soothed, refreshed and rejuvenated when entering and leaving your home.
Above, our deep, verdant shade Chromium works beautifully in this 1930s Door, the brass hardware forming the perfect partnership with the colours of the intricate stained glass design. Alternatively, our Victorian Door works beautifully painted in our restful and characterful Calm Green shade, whose freshness pairs wonderfully well with the polished chrome hardware.
Our experts' top tip:

Like blues, green in Feng Shui is a wood element colour that's connected to new beginnings, healing and growth.

Traditionally believed to welcome prosperity and wealth into the home, green has long been a popular choice for front doors here in the UK and, thanks to its associations with safety, is believed to invoke feelings of comfort and confidence – both excellent attributes to bestow on you and your visitors!
Warm Pinks and Purples
Bringing immediate kerb appeal, these red-based tones range from stylish, playful pinks through to rich, regal purples – and, as you'll see from our images above, it's easy to steer clear of the saccharine-sweetness of a sugary pink to find a shade that's altogether more grown up!
Positive, inspirational and energising, pinks and purples are full of warmth and comfort – and radiate an aura of individuality and design nous around you and your home that's both enticing and exciting.
A wonderful option for a period property, the pairing of our deep and captivating new shade Mulberry with its crisp white surround, stained leaded glass and brass hardware seamlessly melds the homes' heritage with its present – and its future.
While, for the ideal marriage of historic charm and contemporary vitality, the effervescent, stylish looks of our exclusive shade Rangwali makes for a mesmerising and memorable choice, especially when paired with stunning stained glass in complementary colours.
Our experts' top tip:

Of all colours, red-based shades are the luckiest in Feng Shui, lending powerful protection and transforming negative energies into positive.

From the glamorous vibrancy of Rangwali to the deep, contemporary cool of Mulberry, these charismatic tones exude sophistication, but in a way that is fun and inviting rather than stiff and aloof, creating a hospitable, nurturing feel for family and guests that will make any visit to your home a welcome prospect.
Joyful Yellows
Warm and welcoming, cheerful and optimistic, yellows bring a pop of sunshine to your home that will brighten even the dreariest of days.
From soft lemony pastels to rich sunflower (as above), yellow is an uplifting option that will help your home stand out from the crowd – and looks particularly fabulous when paired with a deeper contrast – here, our expert designers have chosen our shade Smoked Aubergine for the ideal contemporary combination.
Our experts' top tip:

In Feng Shui, yellow is an earth colour that represents stability and grounding – but it can become overpowering if used to excess so be sure to employ its powerful positivity sparingly!
We hope you're feeling inspired to choose a front door colour that sparks joy for you and your home!
Why not delve into our latest brochure and discover more of our fabulous colour options and door styles? Simply click here to request your free copy.