Georgian doors look as stately and elegant as their regal name suggests. Think about the homes on The Crescent in Bath or Number 10 Downing Street, and you'll get the picture. Whether the door is an original example or a clever reproduction, a Georgian door will take its inspiration from the period between 1714 and 1830 – that's the period in English history when every King was named George. It also includes the Regency period from 1811 – 1820 when the Prince Regent was acting proxy for his father who was deemed unfit to rule.
While classical and highly stylish, the Georgian period is recognisable for embracing colour. Front doors were often painted in bold shades of red or blue. Black doors also looked especially striking against white plasterwork, and this monochrome effect was extended to checkerboard tiling in paths leading up to the front door.
 It's little wonder then that the Georgian front door has never gone out of style – in fact, it's as popular as ever. This stunning Georgian black front door has a typical four bevelled wood panel design combined with unusual fanlight in classical style and brass door furniture. The design and detail showcase the craft that makes a London door so special. A truly sophisticated example of Georgian style that will give every visitor to the home a favourable first impression.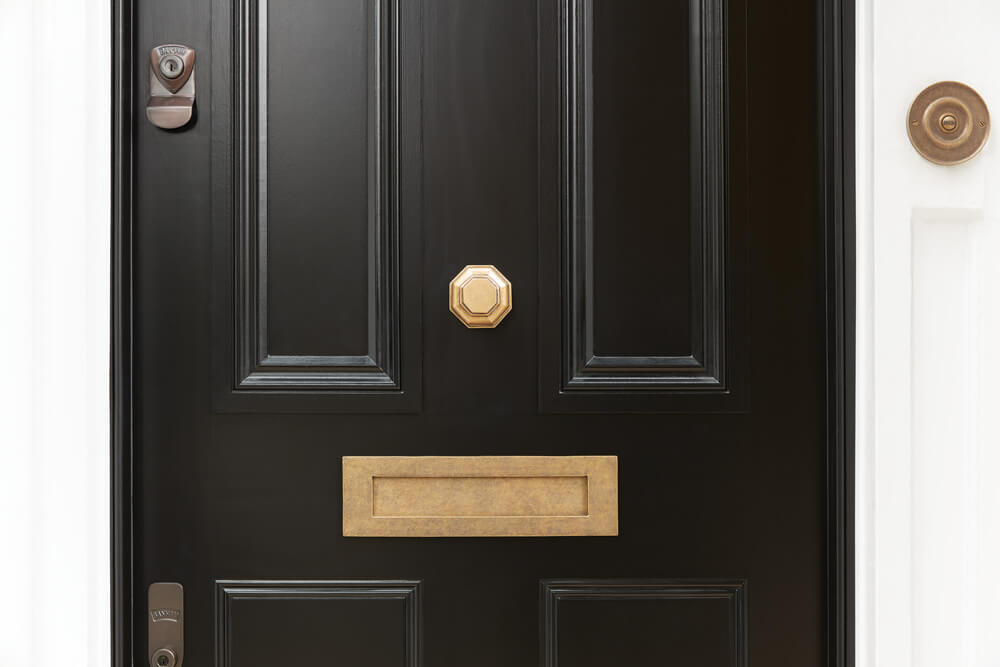 Choose the right style
When choosing a Georgian door, consider the period of your property. While they can look impressive on a variety of period and newly built homes, a designer will be able to advise you on which Georgian style will look best. The scale, proportions and individual design of the entrance will all have an influence on which style of door will be the right choice handcrafted to ensure a millimetre perfect fit.
Materials that stand the test of time
So that your Georgian front door stands the test of time, we craft each one from a durable timber called Accoya®. This sustainable wood is high quality, hard-wearing and will retain its stunning good looks for decades. Each door is painted by hand with several coats of high-quality paint – and there are numerous colours to choose from – take your pick from the classics or go for bold or even pastel, the choice is yours.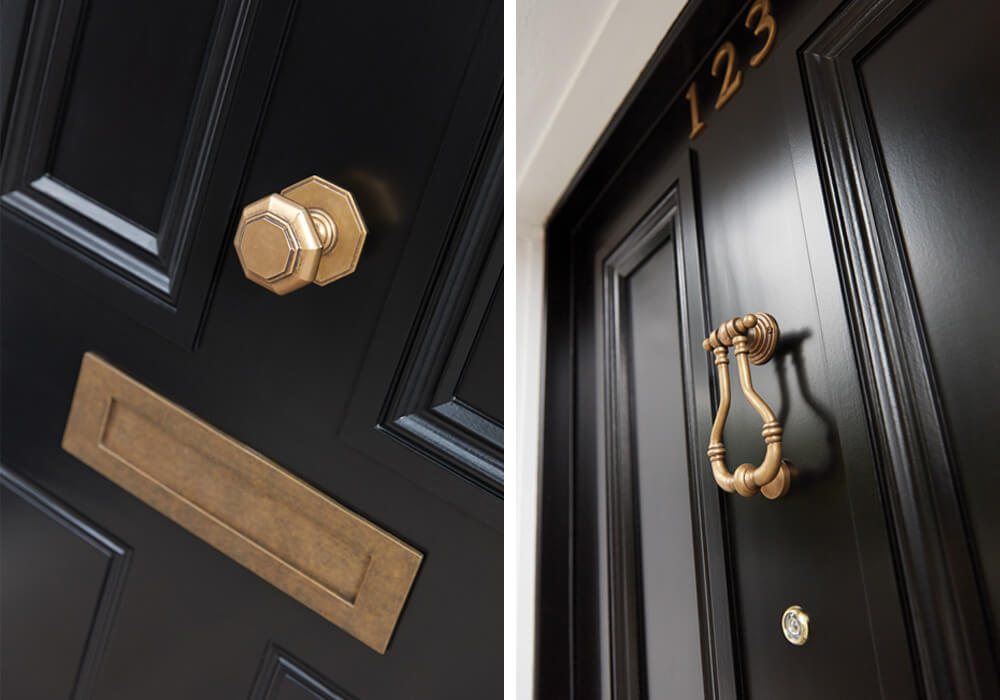 Door furniture
You should also consider door furniture. Georgian doors look wonderful with door knocker styles from the period, and they look great with oversized letterboxes and door numbers too. This Georgian front door features beautifully crafted brass door furniture in keeping with the era of the door. The robust doorknob has a striking hexagonal shape, positioned precisely for practical everyday use. Decorative features like these will give your classic door design a contemporary twist that is still in keeping with its overall look.
Security
Each London Door Company front door is also fitted with leading edge locking systems that will offer enhanced security and protection. While a new Georgian door will look every bit as sophisticated as an original, it will have features that will reduce noise, increase security and insulate your home. While we like to take inspiration from the past when improving our homes, we enjoy the advances available today to keep them safe and warm.
To find out more about London Door Company's Georgian designs, request a free brochure today.