Whatever its size, your hallway is the first room your visitors see, so it's important to make sure it looks just right. If you're looking to update or improve your hallway, here are a few tips to help make it a positive first impression.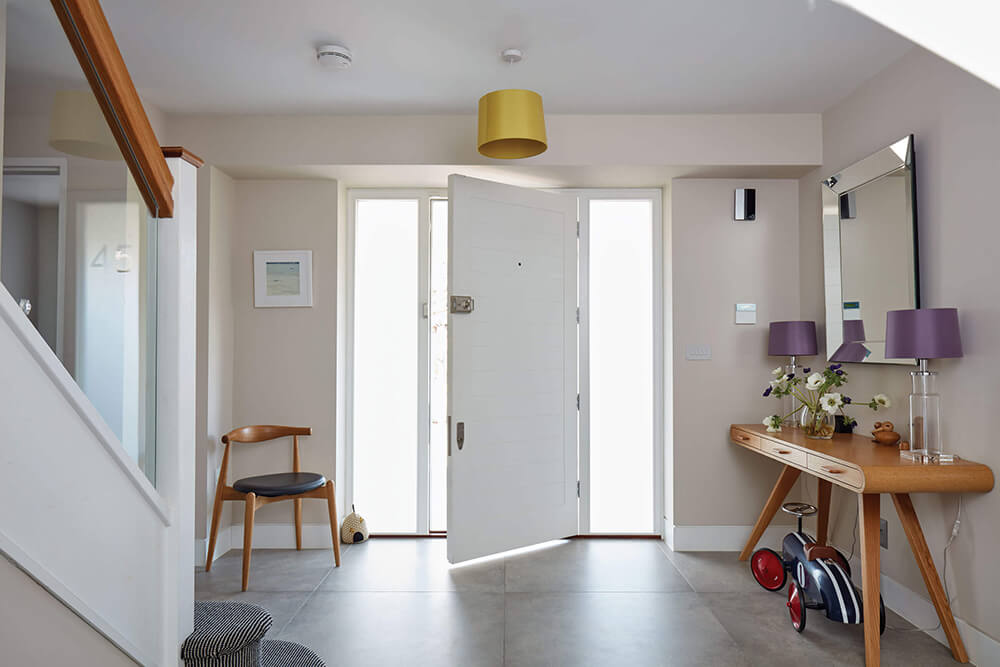 Declutter
If you have a tiny hallway it's essential you don't clutter it with shoes and coats. Tempting as it is to have your outdoor wear heaped up next to the front door, it's not good Feng Shui to interrupt the flow of good energy into your home. Take into consideration how you use the space. If you have an enclosed porch use it. It's a great space to put a basket where you can keep your boots and wellies leaving more room in your hallway.
Storage
Hallways of all sizes benefit from clever storage. Create balance between style and practicality, utilise unused space and add simple built-in cupboards for coats, or incorporate much-needed shoe storage with an integrated bench seat. These are all perfect for busy lifestyles.
Don't ignore any built-in cupboards you might have. These are great places to store brollies and bags.
Embrace your home's individual character
If yours is an older house, make the most of its beautiful period features. Think about flooring. If you live in a Victorian home, embrace features such as parquet flooring or original tiling – this type of flooring is easier to clean than carpet too. If you live in an early 20th-century property, Art Deco features such as wall lamps from the 20's or 30's look incredible. Colours can also reflect your home's original architecture; Victorian spaces look amazing in soft neutrals; Georgian houses suit a monochrome palette, and geometric designs look great in Art Deco style homes. To keep your space clutter-free, build shelving above your doorway and place baskets on it for storing items you need but don't use every day.
Here are our top 3 décor tips:
1. Gather and curate items that will be on display in one place before you start to add them to the space.
2. Use mirrors and glass objects to create the illusion of space.
3. Find balance and consider the placement of objects. Don't put similar objects too close together, or crowd small areas with large objects.
Let there be light
No-one wants to walk into a dark, dingy space so make use of natural light. Open up windows, include fanlights or glass panels in front doors, and make use of mirrors in the hallway to bounce light around the space. If privacy is an issue, replace plain glass with opaque, stained or frosted panes. If you don't have any stand out focal points in your hallway, a great way to create one is with statement lights. Choosing a hung pendant not only provides much-needed light but acts as a centrepiece creating the illusion of height in a space.
Discover all of our favourite hallway style inspiration over on our Pinterest profile.