The style that defined the period between the two world wars was unmistakably Art Deco. This bold design movement originated much earlier in 1910, and as it evolved, it gave us the much loved 'futuristic' linear style that we see on many buildings built in the 1920s and 30s. Great examples of 1930s interior and architectural design can be seen at the Chrysler Building in New York, The Daily Express Building in Manchester and the Théâtre des Champs-Élysées in Paris. During the Great Depression, new materials such as stainless steel and plastic began to emerge. Chrome plating, highly polished surfaces and finishes became popular, giving rise to a sleeker form of the style, called Streamline Moderne.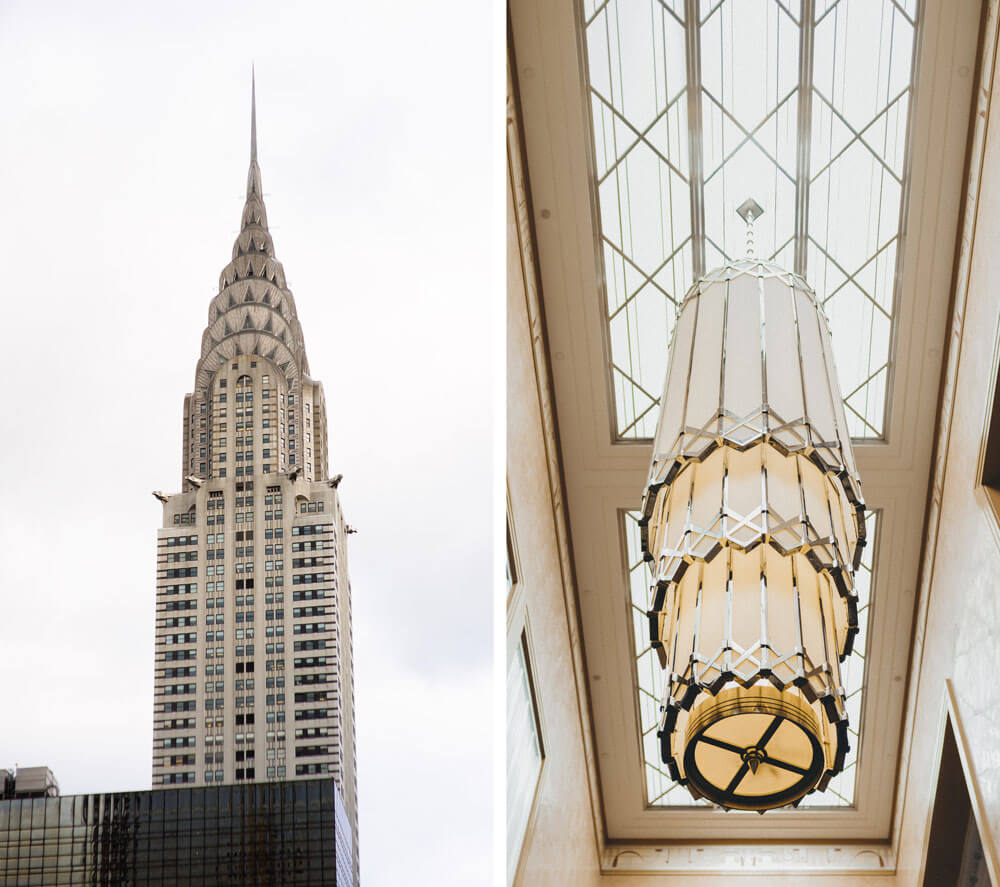 In homes, a 1930s interior is characterised by striking colour combinations; usually golds, oranges and blue shades and, of course, monochrome. Bold geometrics appeared in tiling, parquet flooring, door panels, lighting and metalwork. The sleeker form of the style also gave rise to minimalism in interior architecture; pure white walls formed a dramatic backdrop for polished, curved handrails and black and white flooring. If you live in a home from this period you can recreate a 1930s interior quite easily by incorporating key elements.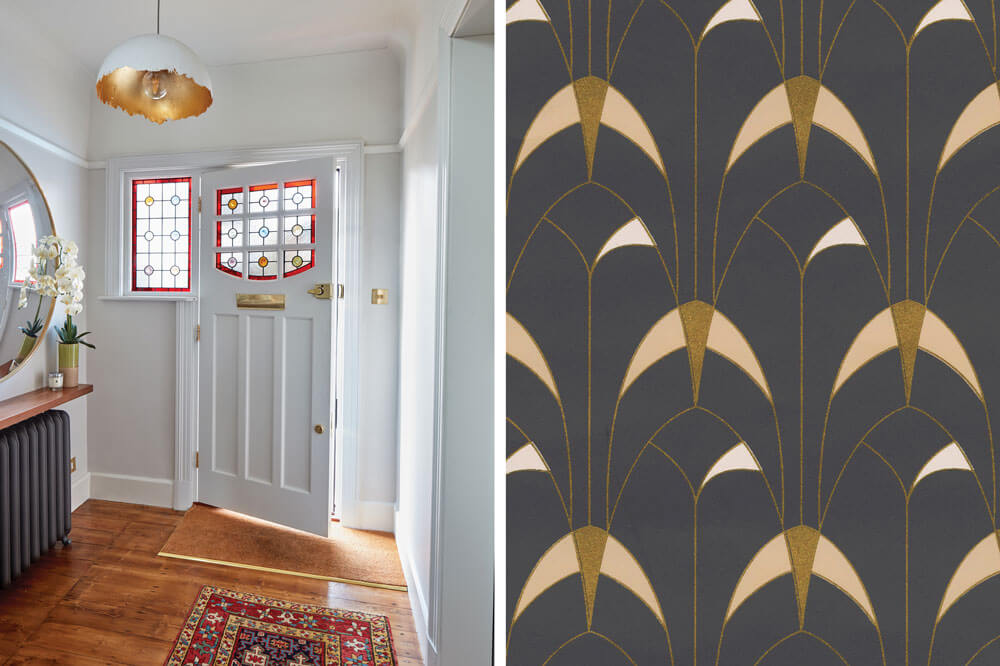 Hallway
Try a block print wallpaper in your hallway or add drama with chunky geometric mirrors with polished chrome, angular frames. Sunburst mirrors were also typical of the era as sunbathing increased in popularity and having a suntan became a status symbol. If you have tired original panelling in your hallway, you can easily update it by painting the walls in a striking 1930s colour. This can be a mustard yellow, sophisticated dark green or poppy blue, perfect for creating instant character.
1930s Front Door
An original door can be recreated in sympathy with the architecture of your home. A vibrant paint job will give it a contemporary boost, and a glazed panel featuring the classic sunburst design will put it firmly on the pre-war map.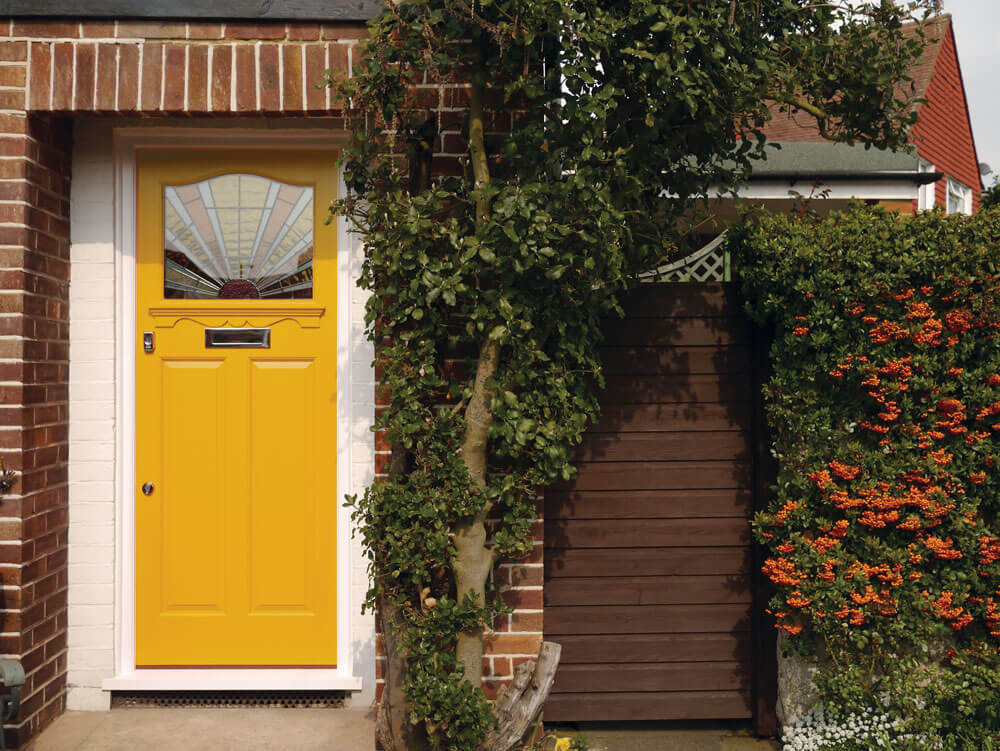 In fact, stained glass was big news and designers went to town, creating wonderful glazing that was full of colour and meaning. At London Door Company, our design experts work tirelessly to make sure that the style and details of 1930s doors are creatively and aesthetically in keeping with doors from the period.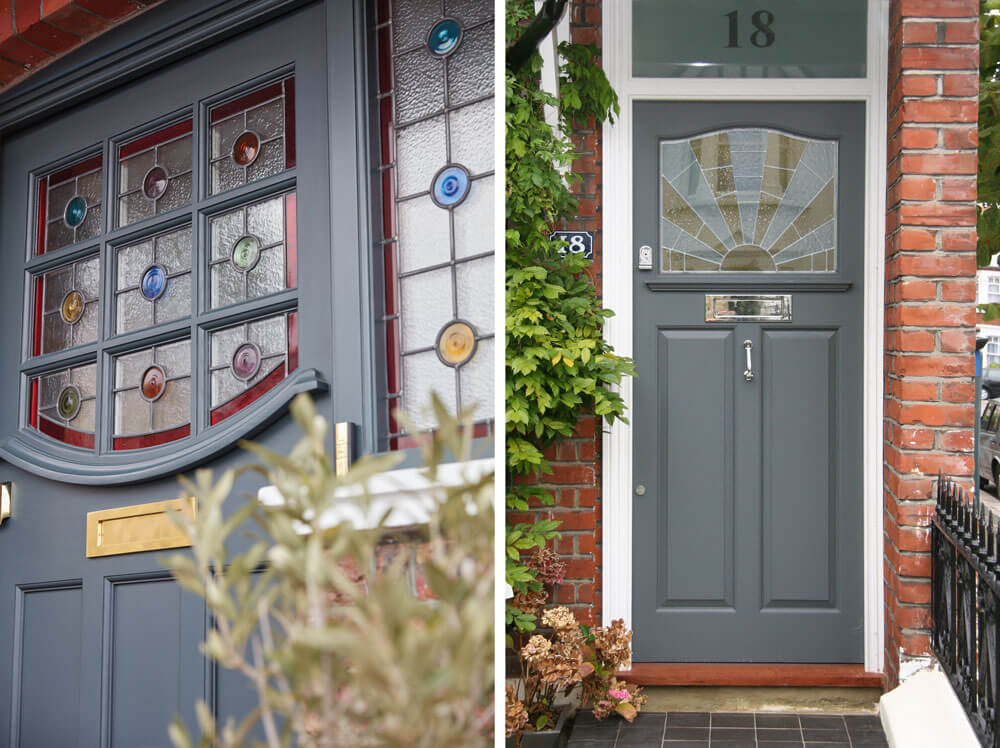 Modern considerations such as strengthened glass and the use of high quality, hard-wearing, durable timber only act to improve on an original idea and bring an authentic design into the 21st century. Modern security and locking systems are of the very highest quality, and carefully crafted door furniture is also styled following the period to ensure no element of modern improvement is intrusive or out of place.
Lighting
Whether you have external lighting in your porch or you're looking for a 1930s design for inside your home, lighting and lamps from this era are easy to recognise. Lighting was generally mass-produced from industrial materials such as chrome, glass, opaque and frosted glass. Modernist designs such as globes or simple tubes of all sizes can be arranged in groups to create a sculpture of illumination which can be effective in minimalist or highly patterned environments.
Anglepoise lamps on desks or console tables were also popular and add a finishing touch to any room. The 1930s interior style has enjoyed a steady revival for almost the whole of this century. There's something about Art Deco that is both beautiful and practical; it can be stunningly simple yet simply elaborate. It just goes to show, if a great design works, it'll never really fall out of favour.
Ready to Take the Next Step? To find out more about our extensive range of bespoke front door designs request our free 2019 brochure today.