There's a reason why London Door Company's Grey Front Doors are creating a stir on Pinterest and Instagram.
Grey front doors make a lasting impression. Whether they're hand-painted in an elegant shade of slate, timeless charcoal or pale dove, grey is trending all over social media. It's a colour that never seems to go out of style yet it manages to instantly update any style of door from Victorian front doors to contemporary designs. So if you're thinking of 'going grey' what should you consider?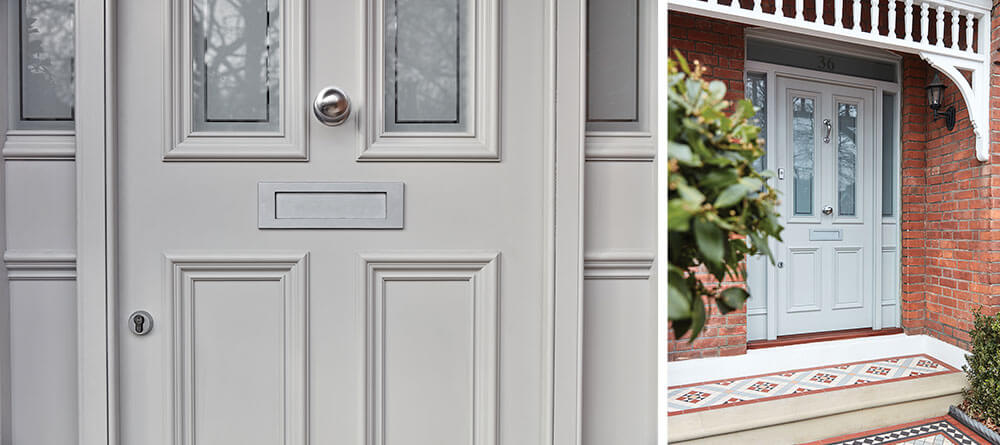 Lighter greys like silver, dove and oyster create a calm, tranquil space and can make your home appear larger. Pale greys work wonderfully with opaque glass and can be an attractive complement to luscious greenery – a consideration if foliage frames your front door. The paler the grey the fresher it looks and London Door Company doors are designed and built to retain their good looks for longer. Each one is finished seamlessly by hand in a hard-wearing, high-quality paint that only needs a wipe with a damp cloth to keep it looking as good as new.
Grey is a stunning, timeless neutral which makes it a really popular choice for new build homes and renovated properties. The classic shade looks amazing against industrial-style buildings and concrete facades; large stone porchways and slate pathways are enhanced by shades that mimic the colour of a winter sky.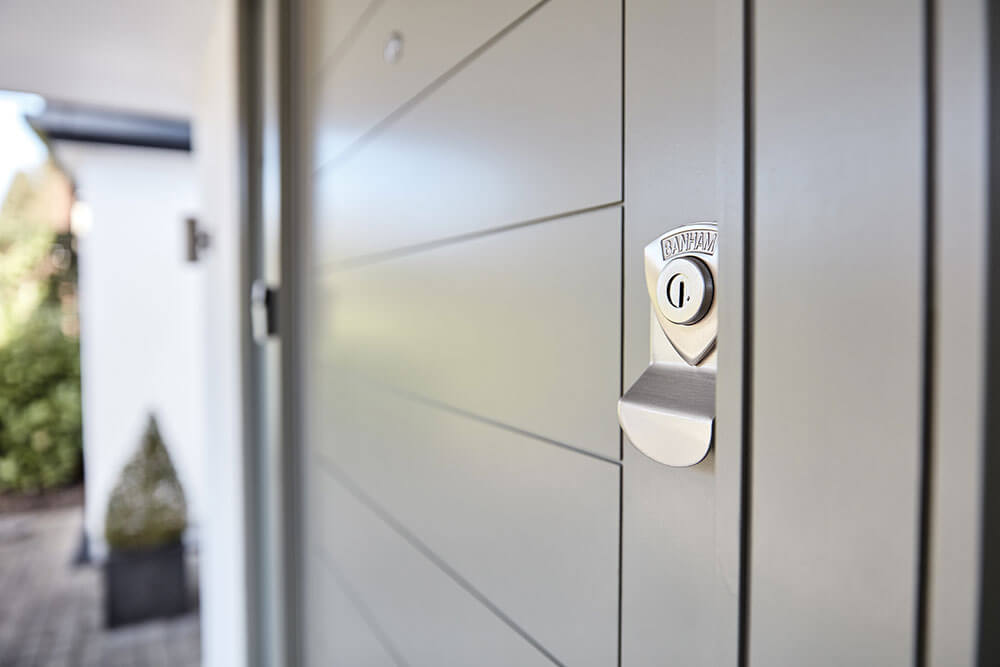 Mid-shades of grey appear more contemporary when framed by glass, so consider these tones if you have sidelights or large glass panels you'd like to showcase.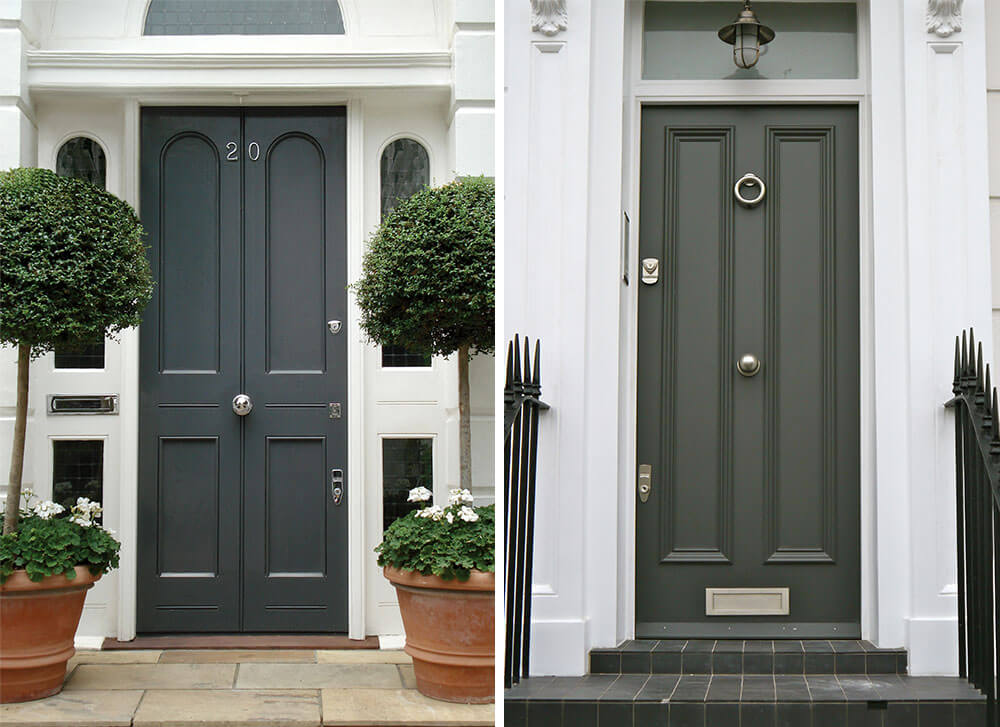 Slate grey is a classic choice and always looks smart and elegant. This iconic shade adds real kerb appeal when contrasted with white-wash or a pale stone fascia. Any shade of grey can be enhanced by strategically placed lighting but a slate grey door looks wonderful next to restored vintage wall lights.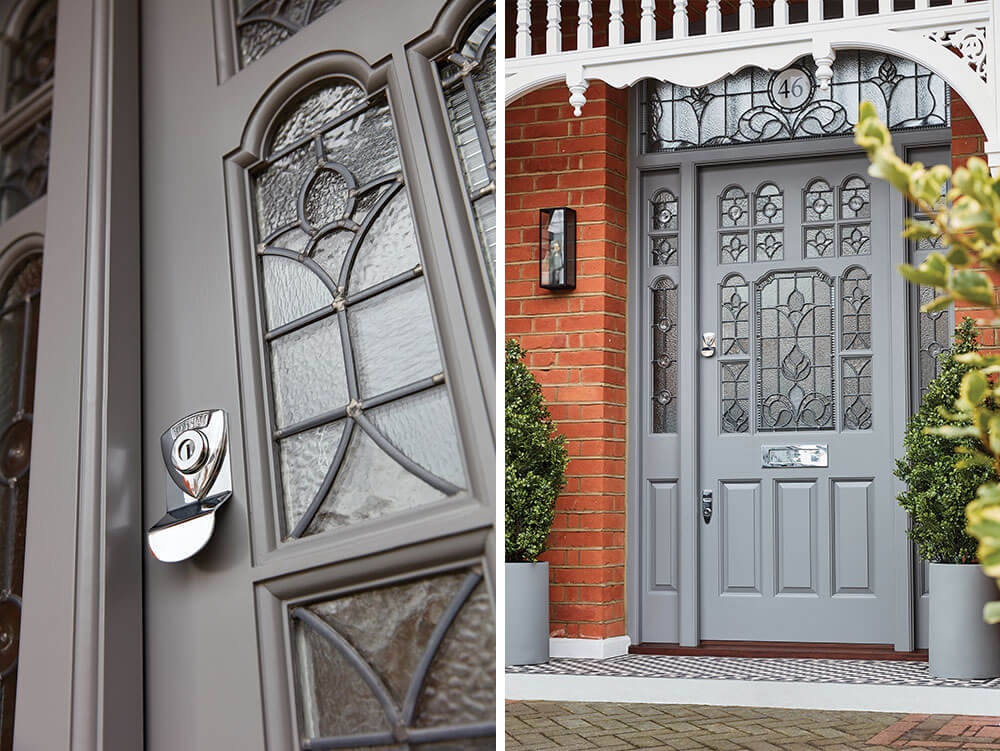 As if we haven't sung the benefits of this beautiful colour quite enough, grey has another trick up its sleeve. It highlights the features that surround it. It's a colour that's happy to share the limelight so if your home has a unique or quirky style or striking glasswork that you want everyone to see, grey is the ideal complement.
Ready to take the next step?
Whenever you want to talk to us about your next front door whether that's anything from one of our grey front doors or classic red designs, we will be happy to visit you in your home at a time that's convenient to you.
We offer a complete service from design to installation, so no other tradesmen are needed. Request a free, no obligation design consultation in the comfort of your own home today.