Whether you want to redesign the glazing in your front door or restore what you already have, we have the ideas and expertise to create show-stopping solutions. Glazing can bring a front door to life. It can add depth and character. It can be 'of the moment', personal to you or in keeping with the period of your property. When it comes to front door glazing that's beautiful, strong and secure, London Door Company can design a solution that's right for you.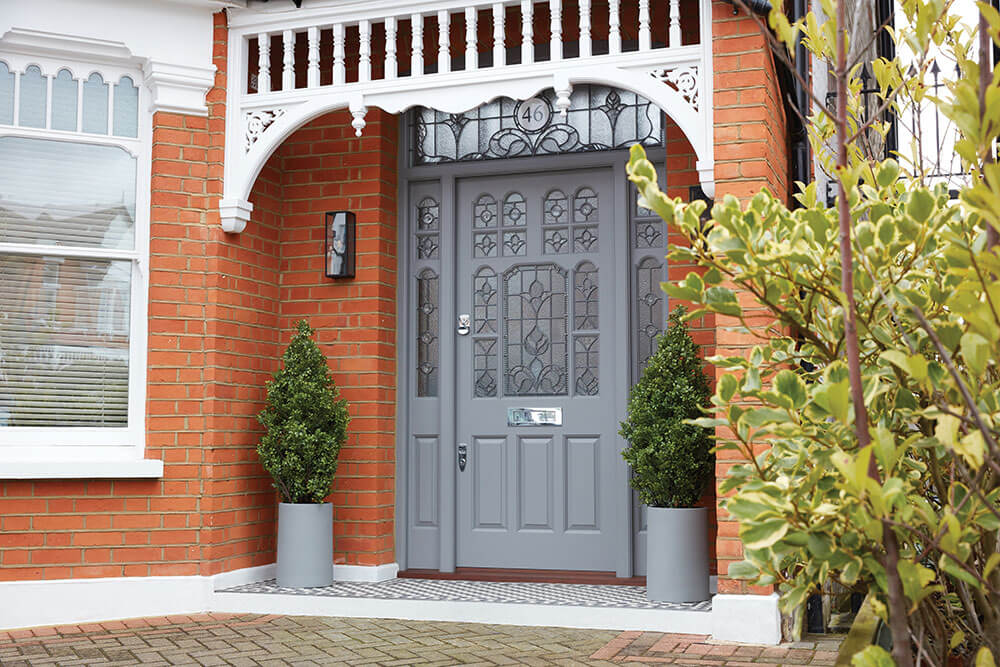 Our glaziers combine traditional techniques with the latest technology to develop new designs or impeccable restorations. Often, original front door glazing with its intricate etchings and fine detail can be enhanced or recreated by our skilled team. Whether you want stained glass, frosted, clear or opaque glass the choice is yours. With restorations as well as recreations, we can enhance the security of your door using laminated, toughened security glass that's also fire resistant and insulated making it even better than the original.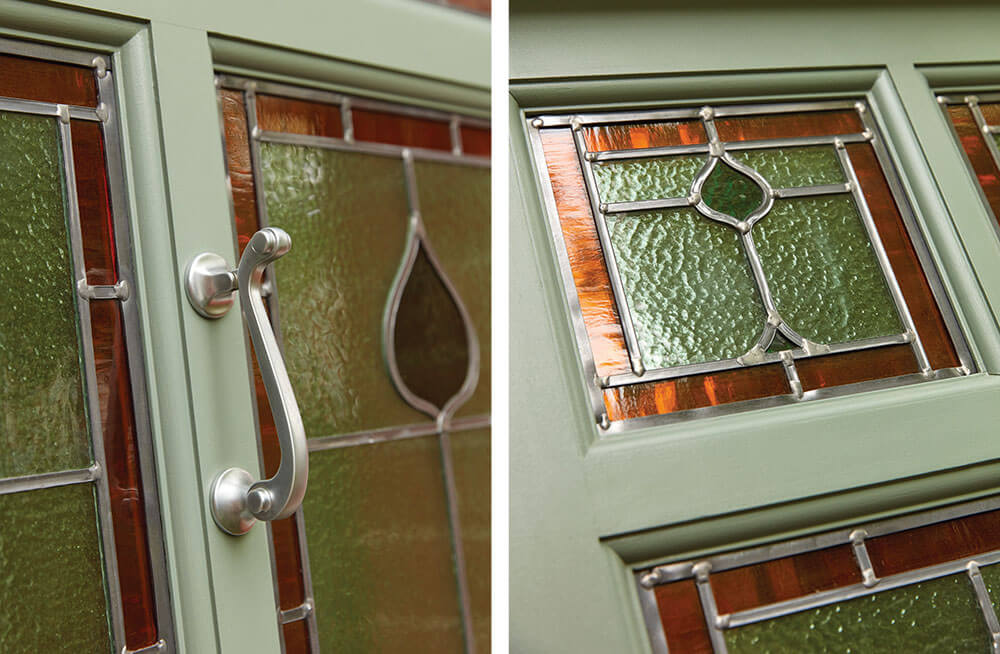 We offer styles with a wealth of design choice; 1930s stained glass, Victorian, contemporary and more. As well as the glazing in your door, we can restore or recreate fanlights and sidelights to give your entrance real kerb appeal.
1930s – full of colour and meaning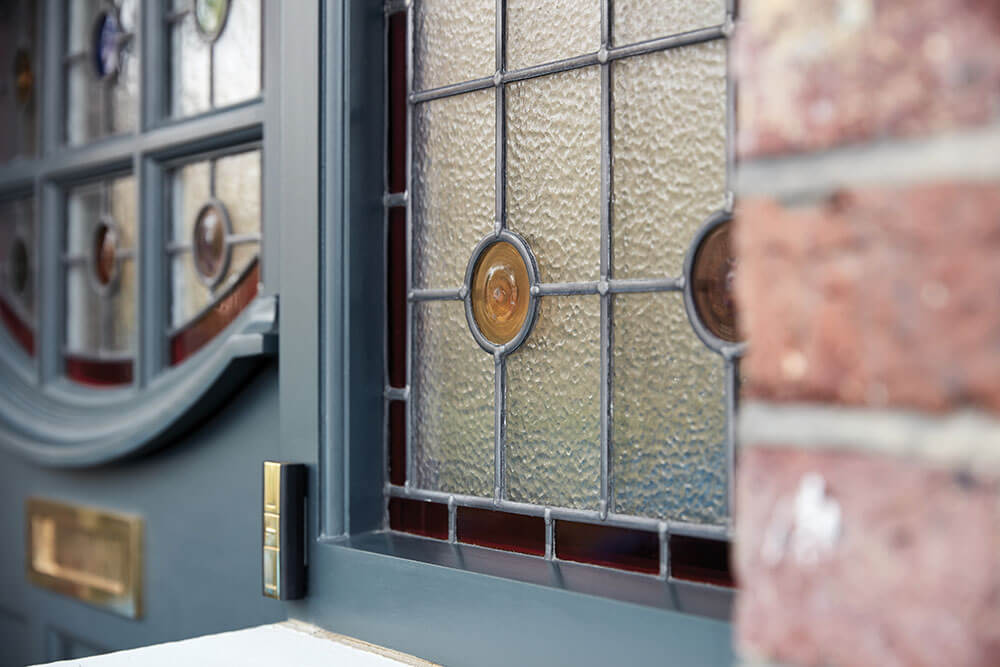 Between the wars, there was a boom in house building. Many 1930s homes have a distinctive look and their front doors were no exception. Art Deco was big news, this is reflected in some of the stained glass motifs of the day with their modern, angular designs and futuristic themes. A wonderful example of Art Deco design can be seen in the architecture of the Chrysler building in New York. Many cinemas of the day were built in a similar style hailing in a new, modern age of global communication.
Sunbathing was becoming popular, and many doors had stained glass sunburst motifs. Beautiful colours such as shades of orange, red and yellow can be seen in the stained glass from this period and doors were painted in vibrant colours to complement the themes in the glass. Today, 1930s doors are becoming as popular as they were 80 years ago – their timeless design looks as contemporary now as it did then.
Victorian – stained glass details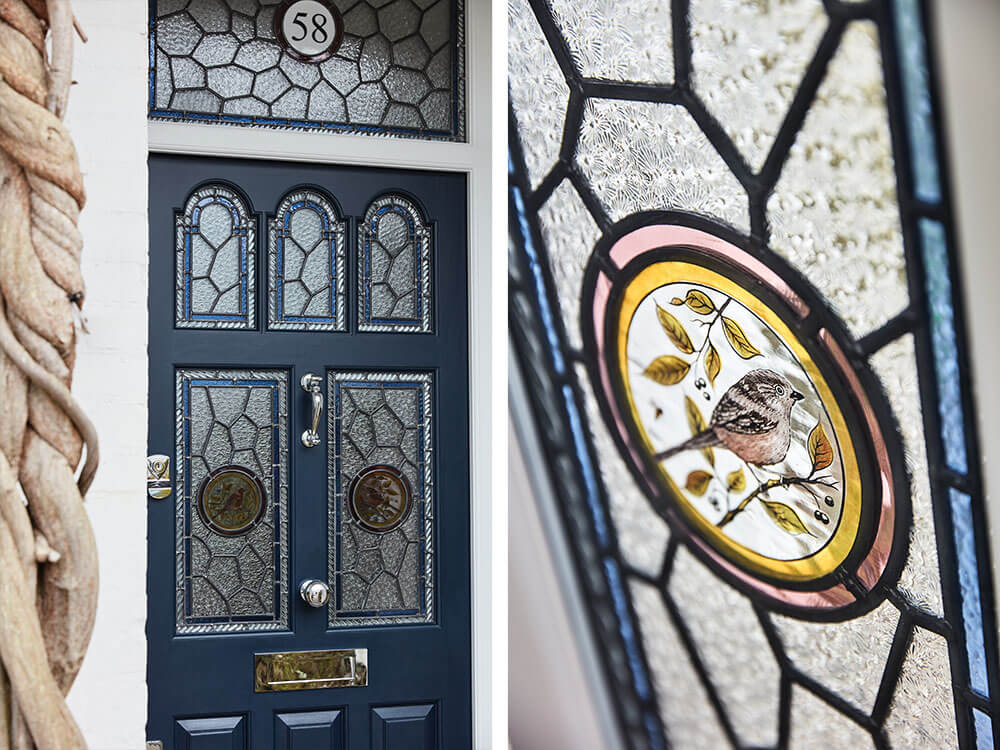 The Victorians were fans of gothic and neo-classical themes. Many doors from this period had intricate hand-painted stained glass and as the 19th century paced toward the 20th, glass became brighter and more colourful. As William Morris' designs became popular, stained glass took its inspiration from his beloved designs. Floral patterns and romantic flourishes with allusions to medieval themes became popular and, as the manufacturing process of glass developed, larger panels became more affordable giving rise to the trend for leaded panes and patterned glass in the entire top half of the front door.
Contemporary – all about you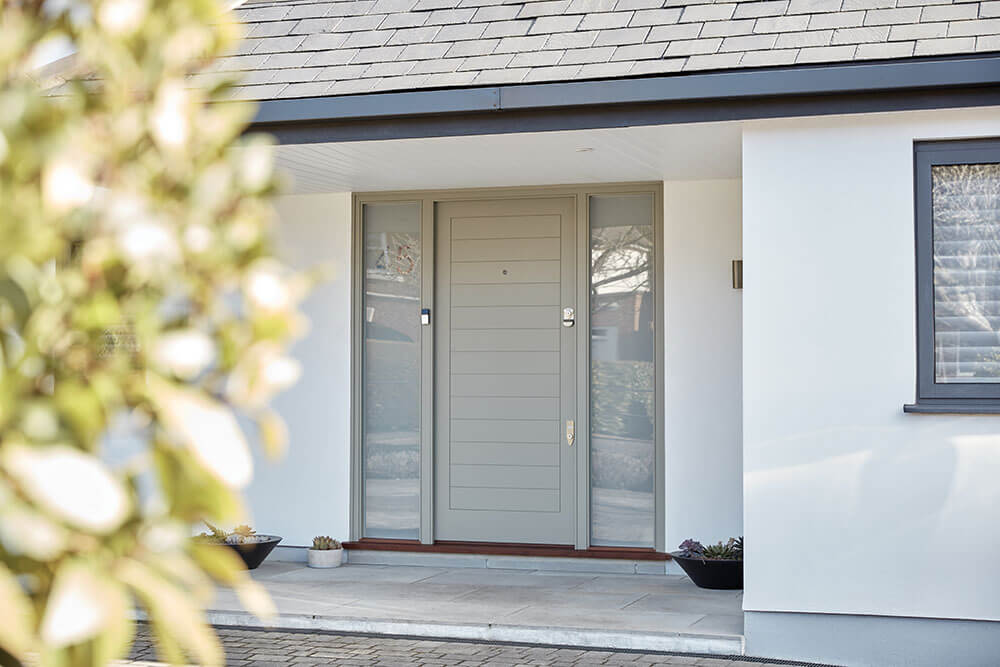 In the 21st century, you can use almost any style of glazing to enhance your entrance. These days we have the technology to produce bespoke, personalised glazing for any style of front door. Numerals and house names can be etched into the glass in the front door or sidelights. It also means numerals don't have to sit on top of a door or brickwork. Oversized house numbers can give your home a modern edge and this application suits entrances with a minimalist design.
We understand that glass doesn't have to be fragile; it can be a beautiful enhancement to your security and insulation. Contemporary frosted or opaque glass allows light to flood into your hallway without compromising your privacy, allowing you to have a lighter, brighter, more secure home.
For more information about how front door glazing can enhance the look and feel of your home, request our 2019 brochure today or call for a free design visit on 0845 646 0690.