The Georgian period is one of the longest in recent English history, spanning the reign of the four Georges from 1714 until 1830. Georgian architecture was symmetrical, following classical lines. Typically, a townhouse would have a central door with an equal number of windows at either side. Buildings were constructed of brick or stone, were structurally solid and built to last. If you are fortunate enough to own one of these beautiful properties and would like to know a little more about Georgian home renovation, we have a few tips to help you bring it seamlessly into the 21st century without compromising its original style.
What Are the Main Characteristics of a Georgian Property?
During the industrial revolution, people flocked from farming communities into cities to make their fortunes in industry and trade. As space was at a premium, wealthy Georgian merchants built up – constructing stately townhouses over three or four storeys. In mill towns, smaller townhouses were built along similar lines for weavers and craftspeople who worked from workshops on the upper storeys.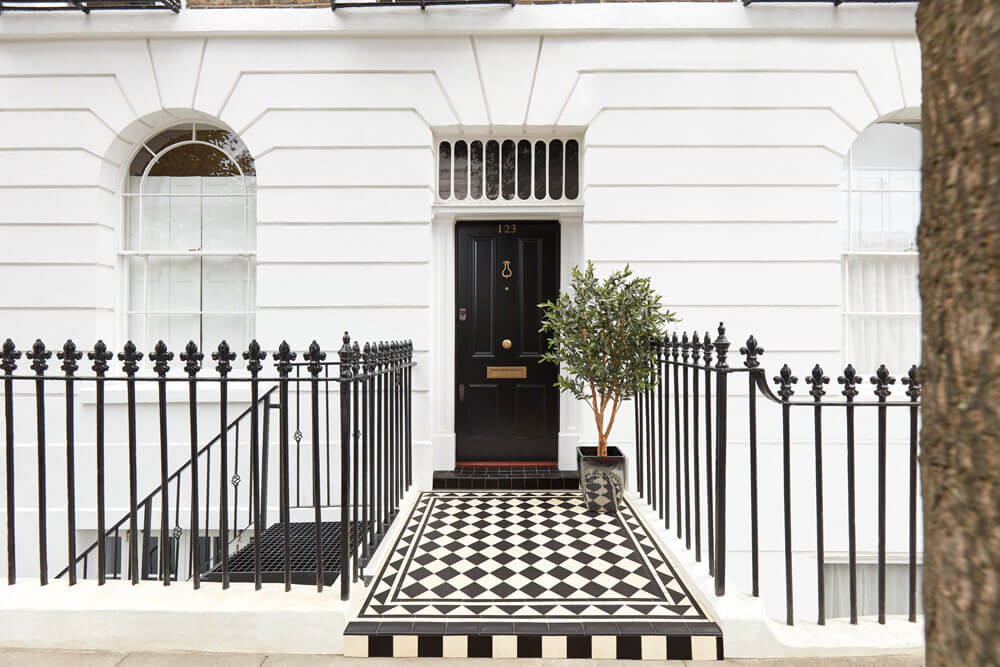 Sash windows with smaller panes allowed light and fresh air to flow into Georgian homes. If you're taking on a Georgian home renovation, replacing windows with sash windows is in sympathy with the design of the day. Homes had tall windows on the first two floors which housed the master's living quarters and smaller windows on the top storeys which may have been servants' rooms. From 1696 – 1851 homes in England were subject to a window tax. The more windows a property had, the more tax the household had to pay. It's quite common to see bricked up spaces where a window should be in Georgian properties and some housebuilders today who are seeking to emulate Georgian style, include the occasional bricked up 'window' into the building's design as an architectural affectation.
To complement the Georgian home's symmetrical stucco-fronted exterior, properties have a balanced interior layout. This means large, square rooms of equal size on either side of a central hallway. You can age a Georgian property by the way the exterior is rendered. Homes built earlier in the period have the render on the ground floor with the rest of the building's brickwork exposed; later in the period, during the era known as the Regency which began around 1810, houses were rendered from top to bottom and painted white or cream. Houses were often built around garden squares, as the homes did not have their own outside space.
Georgian Home Renovation – What to Consider
Hallway decor
The Georgian hallway is where first impressions are made. Original plaster mouldings were rooted in classicism featuring Roman and Greek influences; scrollwork, arched recesses in the walls; columns and ceramic tiled flooring or stone flag flooring. Light would filter into halls from sidelights and fanlights. Lunette lights built into doorways leading from reception rooms also let light into hallways.
Lighting
Think about the type of lighting that you need in every room as part of your Georgian home renovation. Do you need mood lighting, task lighting, ambient lighting or picture lighting? Chandeliers were popular in hallways and grand reception rooms. Sconces provide soft lamplight to set the mood, and large church candles inside square glass hurricane lamps on mantelpieces or kitchen shelving are evocative of early eighteenth-century style. Coach lamps placed in porch-ways are also typical of the period and can add authentic style to your entrance.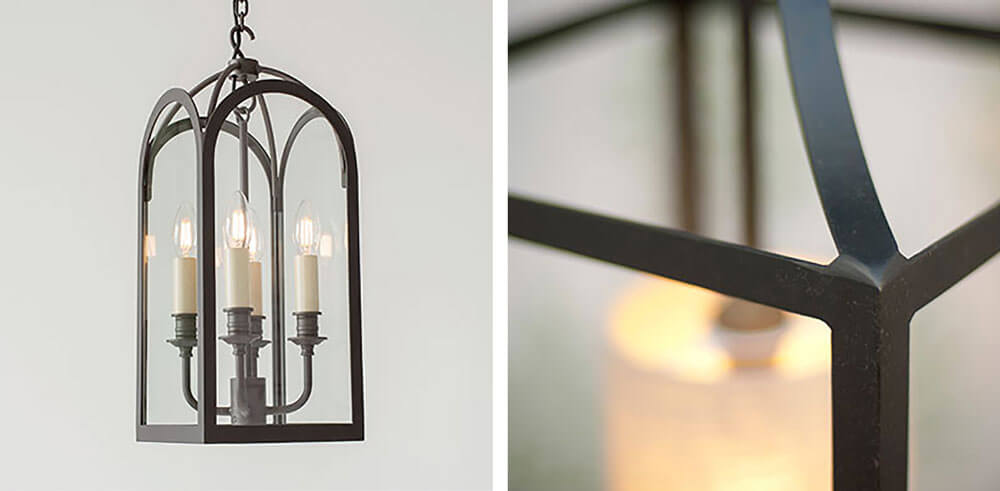 Finishing Touches
A Georgian home renovation is incomplete without the finer details. Finishing touches from the period include printed wallpapers featuring exotic birds or classical imagery such as urns. Popular colours from the later part of this era include cornflower blues, soft greys and buttery yellows. Finishes tended to be Matte. Wood panelling and cornices should be painted in the same shade as the walls for an authentic effect but if there's no panelling, paint cornices in the same shade as the ceiling.
Georgian Front Doors
Front doors from the period feature four or six panels and are of solid construction. Authentic doors were usually painted in neutral colours, typically either black or white. Today Georgian style doors look incredible in a range of colours from muted pastel shades to eye-catching primary colours. If you have a white rendered facade, a contrasting colour such as red or black can look striking. A high-quality finish will protect the door and help it to retain its appeal for years to come.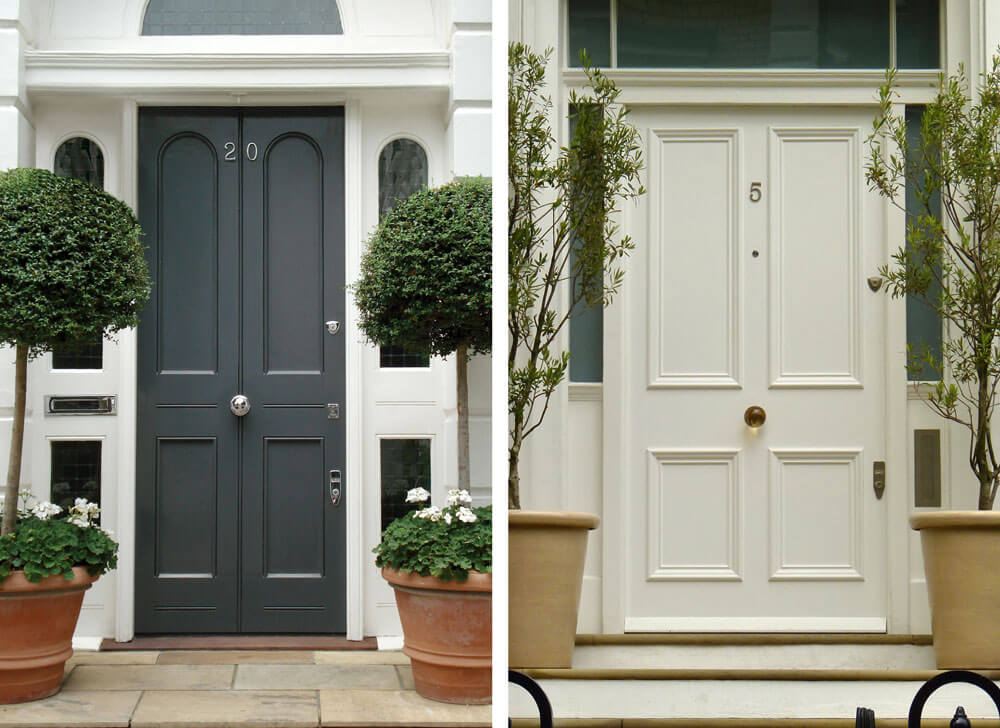 This Georgian black front door with four bevelled wood panels, has an unusual fanlight in classical style and brass door furniture. The design and detail showcases the workmanship that makes a door by London Door Company so special. A truly sophisticated example of Georgian style that will give every visitor a favourable first impression.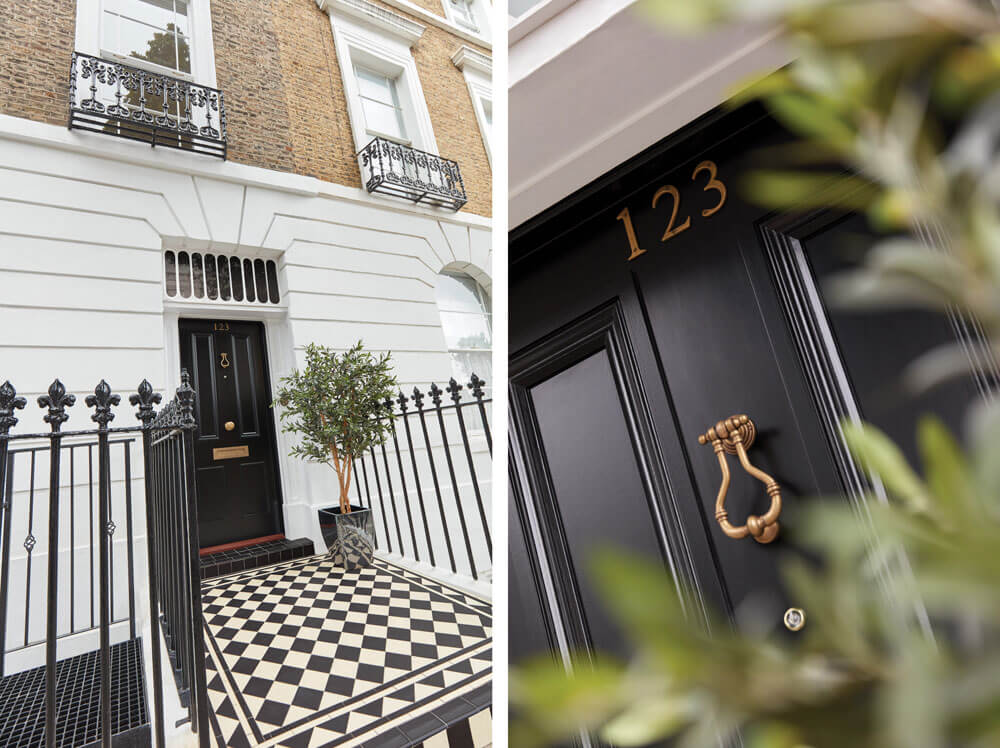 This Georgian front door has moulded panels, opaque sidelights, fanlight and polished chrome door furniture. Sidelights and fanlights became popular during the early 1800s when homes had to find new ways to bring more light into hallways. The opaque glazing allows light in but affords privacy and security. It's expertly hand-finished in British Racing Green for classic kerb appeal.
For more information about our Georgian door range, request a brochure today.