With our winning ideas, we can help you design a space that'll have your friends making a beeline for your home all summer long. Whether that's boosting backyard appeal with a set of new garden doors or creating a welcoming outdoor living space for friends and family.
Certain factors like unexpected bad weather, scorching sun or the lack of seating can quickly complicate things. So why not make your garden summer ready with our stylish ideas below.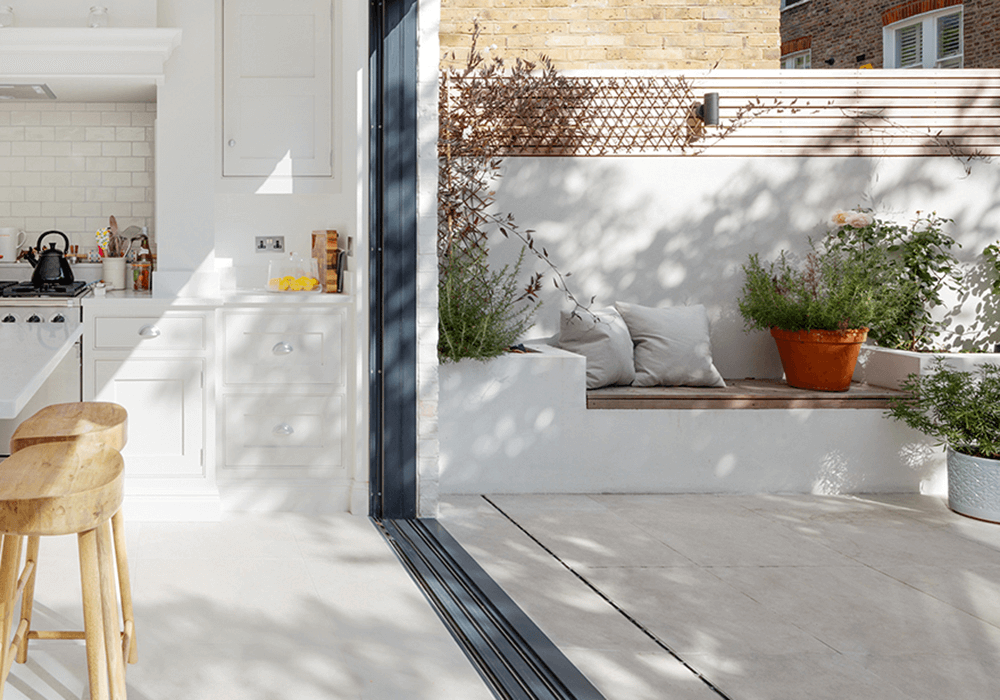 Create a Seamless Indoor-Outdoor Living Space
Extending your interior out into the garden is a huge trend for 2019, especially with the rise in home renovation and open plan kitchen living spaces. One way to merge both areas is by extending your internal flooring out onto courtyards and patios. By using the same material throughout, it gives the illusion of one seamless space.
There is a vast variety of tiles, textured natural stone or concrete effect sealed flooring that looks fantastic both in and out. If your garden is a blank canvas, you can even inject a colour scheme that reflects your interior creating one cohesive space. Painting fence panels can be an easy way to achieve this or add splashes of colour with soft furnishings and planting.
Garden Doors
No matter what the Great British weather is doing, garden doors are a beautiful feature. Whether it's a pair of French doors overlooking a cottage garden or contemporary bi-fold doors that open out onto a seating area, garden doors let light flood through your favourite rooms and give you easy access to your outside space.
You don't need a standard size doorway to benefit from stylish garden doors. Pairs of doors can replace a picture window or an old back door and are designed to be safe, secure and robust. There are so many glass designs available; you can opt for fully or partially glazed to suit your house style and personal preference.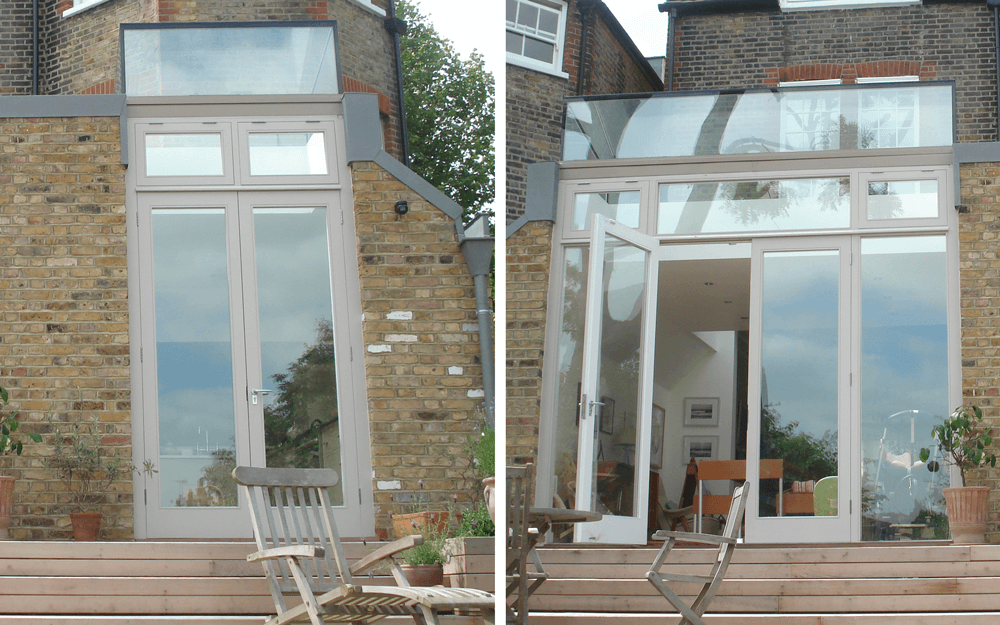 Partial or full glass extensions can blur the boundary between inside and out maximising garden views and creating one large entertaining space in summer. Full-length glass doors are a great way to appreciate your garden or patio, even when the weather is unpredictable. Quickly open the doors for ready-to-go alfresco dining or close and still enjoy the views while staying dry.
Outdoor Kitchens
If you're a budding chef or love hosting, then an outdoor kitchen is a must. This can be anything from a gas barbecue with stand-alone storage, a fully integrated kitchen with appliances or an impressive pizza oven. The benefit of setting up a kitchen outside is that it makes cooking and accessing food easier when hosting a party. You can keep costs down by building storage and a barbecue from reclaimed bricks or go all out and invest in a solid structure with cover, perfect for all weathers. If you are looking to create an outdoor kitchen, you will also need plastic dishware, serving bowls, barbecue utensils and napkins ensuring you have everything to host a memorable party.
Garden Seating Ideas
Work out where you want your guests to sit and stick to it – this will dictate where you'll put your table (if serving food) and where your guests will dance or gather for a chat. Seating can be made more comfortable with weatherproof cushions and throws for a little extra warmth when it gets chilly. Large floor cushions and beanbags are perfect for younger members of the family or for simply relaxing on a hot day in your outdoor living space. Hanging chairs are becoming popular, and there's a huge variety to choose from. From bohemian bamboo varieties to modern plush cushioned pods.
Outdoor Home Comforts
Whether you have a small urban garden or sizeable lawned space, there's no stopping you adding a few outdoor comforts. Look for cosy throws for cold nights next to a fire pit, removable and wipeable cushions for your outdoor living furniture and rugs to make the space really feel like home. Outdoor rugs are an ideal way to zone seating areas and even create a welcoming surface to sit on with floor cushions and pouffes.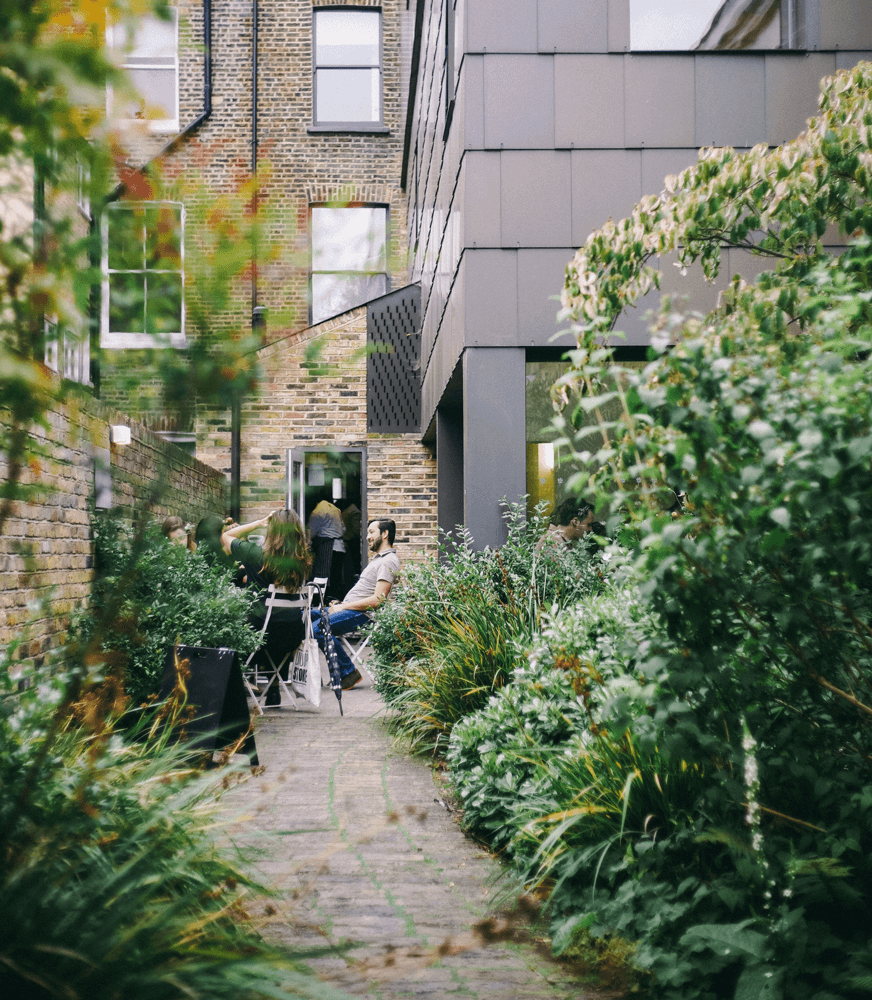 Garden Lighting
For an 'enchanted garden' feel, hang bulb lights or sophisticated glass bottles with tea lights inside, these look great on exposed walls or features like gazebos and rose arches. Draping a rope of solar lights or battery powered fairy lights around trees or hedges is a quick and easy solution that can be removed at any time. Battery powered hurricane lamps on top of walls or solar powered lights along pathways are a great idea as there's no trailing wires or a need to plug them into a power source. Discover more of our outdoor lighting ideas here.
Discover all of our stunning garden doors or more outdoor living inspiration on our Pinterest page, from seating, garden decor and more.