Our glazing options are as varied as our door designs. Stained glass doors can bring a home to life, adding depth and character. It can be 'of the moment', personal to you or in keeping with the period of your property. As well as providing a range of glass design options in and around your door, we can discuss strengthening of your glazing for extra security, warmth and any noise reduction. When it comes to your front door, London Door Company can design a solution that's right for you.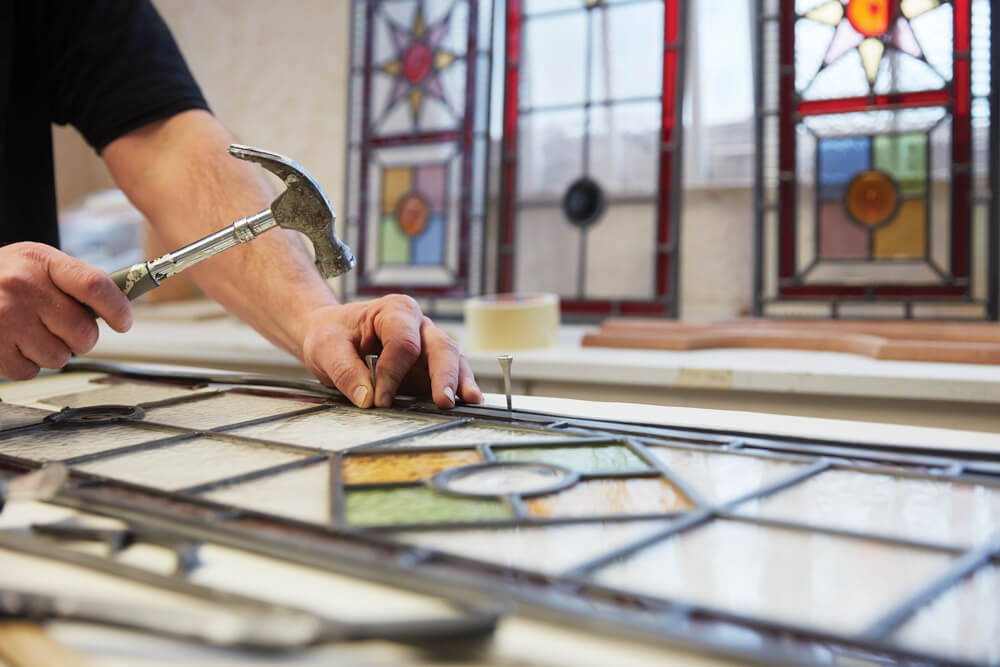 Our glaziers combine traditional techniques with the latest technology to develop new designs or impeccable restorations. Often, original front door glazing with its intricate etchings and fine detail can be enhanced or recreated by our skilled team. Whether you want stained glass doors, frosted, clear or opaque glass, the choice is yours. With restorations as well as recreations, we can enhance the security of your door using laminated, toughened security glass that's also fire resistant and insulated, making it even better than the original.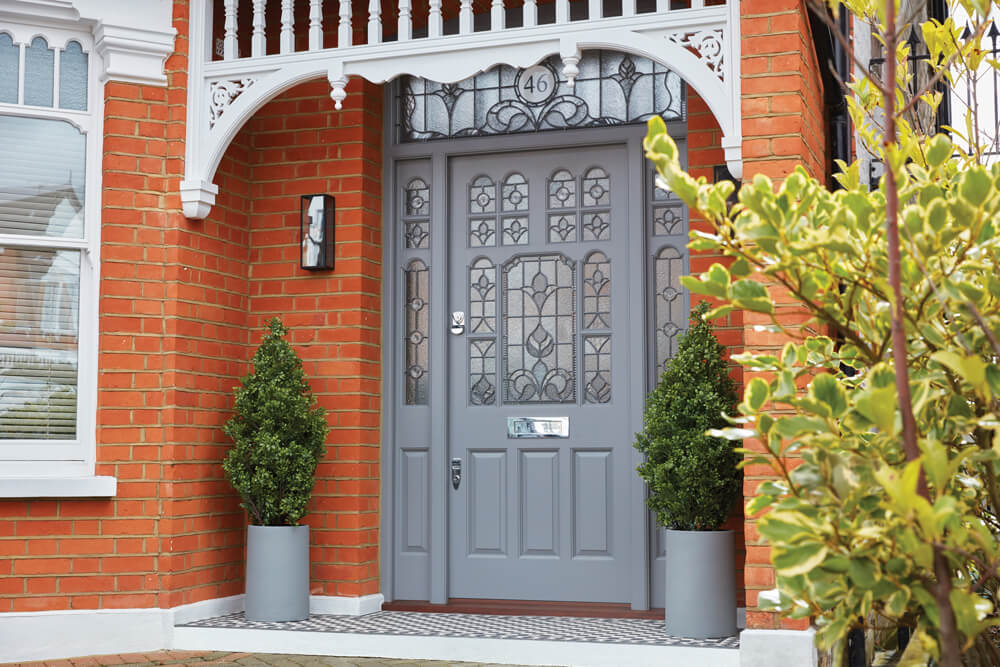 Understanding Stained Glass
Stained glass can be traced back to the 7th century with multiple examples found worldwide in various cultures. You can see beautiful examples of stained glass in the traditional religious buildings and residential homes of today. It has a fantastic ability to tell a story as well as transforming a space with additional light and colour. With new developments in technology, stained glass is perfect for adding appeal to your front door. At London Door Company, our glazing is available in a stunning range of designs to suit your homes aesthetic and individual taste.
Victorian Stained Glass Doors
Stained glass was particularly popular in the Victorian era. Many doors from this period had intricate hand-painted stained glass, and as the 19th century paced toward the 20th, glass became brighter and more colourful. As William Morris' designs became popular, stained glass took its inspiration from his popular designs. Floral patterns, birds and romantic flourishes with allusions to medieval themes are seen. As the manufacturing process of glass developed, larger panels became more affordable, giving rise to the trend for leaded panes and patterned glass in the entire top half of the front door.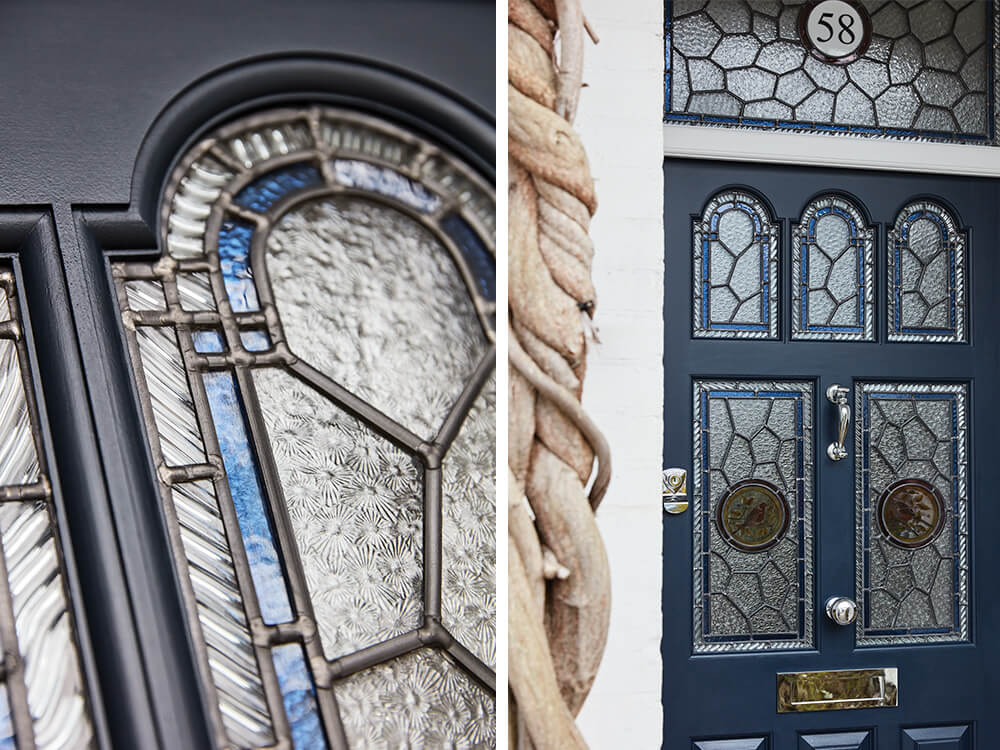 1930s Style Glazing
1930s homes have a wealth of features; some are art deco in style with sharp, geometric designs such as rectangular bay fronts and window panes, others have been influenced by the Arts and Crafts movement. Stained glass was also big news and designers from the 1930s went to town, creating wonderful glazing that could be full of colour and meaning.
The owner of this stunning door below wanted to keep her original stained glass, so our skilled glaziers removed it from her old door, fitted it into the new design and laminated it for additional warmth and security. Because our craftsmen are meticulous about every detail, the door features two moulded panels and a short cill beneath the glass which also reflect details reminiscent of the 1930s.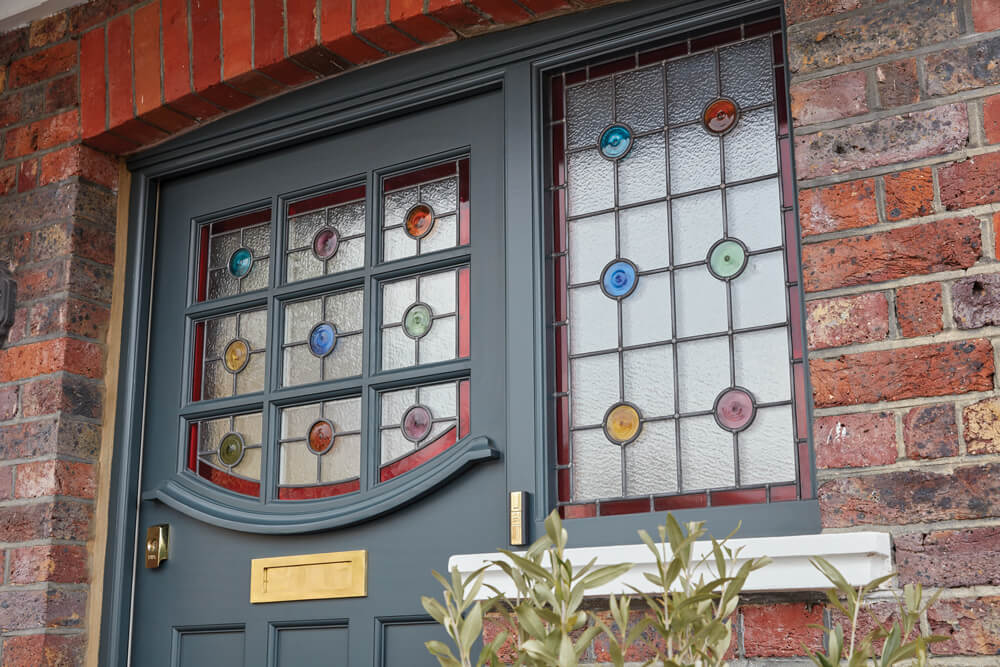 Edwardian Glazing
The Edwardian period heralded a new century and new possibilities; people were taking to the roads in cars and to the skies for the first time. The Art Nouveau movement was coming into its own, and it was seen as a time of innovation and imagination. While the Edwardians weren't afraid to take architectural influences from other periods of history, the end result was distinctively Edwardian.
Designs of this period often feature colourful Art Nouveau style stained glass sidelights and fanlights which can be restored or refurbished. A bespoke reproduction can be double glazed for added warmth, noise reduction and security without compromising authentic style.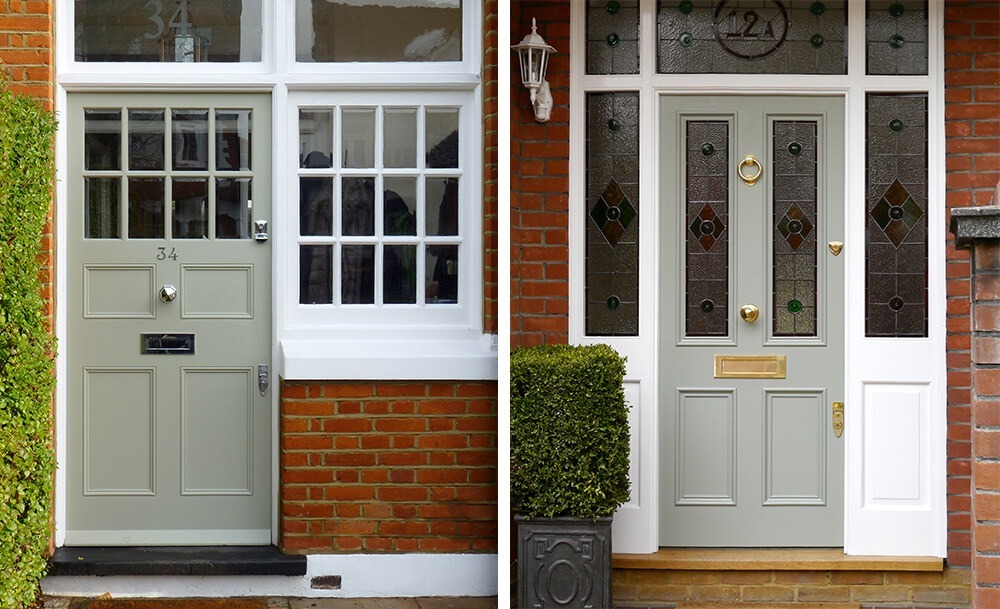 Georgian
The Georgians were famous for loud living and impeccable style – the most flamboyant examples of which emerged during the future George IV's Regency. Georgian properties often had windowless entrances with high ceilings. Due to this, doors would feature fanlights to let natural light flow into the home. These fanlights can be square or arched and would feature either no decoration or very simple designs. These days the fanlight of a Georgian door is often used to display an oversized door number to striking effect.
Ready to Take the Next Step?
If one of our stained glass doors is on your wishlist, then request a free brochure or speak to one of our experts in a free no-obligation design visit today.