To be truly Victorian, your home would have been built between 1837 and 1901 – a large period of time spanning over 60 years that saw plenty of innovation in architecture. Today, many modern homes are inspired by the style, layout and practical features seen in Victorian properties. As well as the red brick, striking gables, Victorian doors and bay windows, houses of this period had an easy-to-recognise interior style.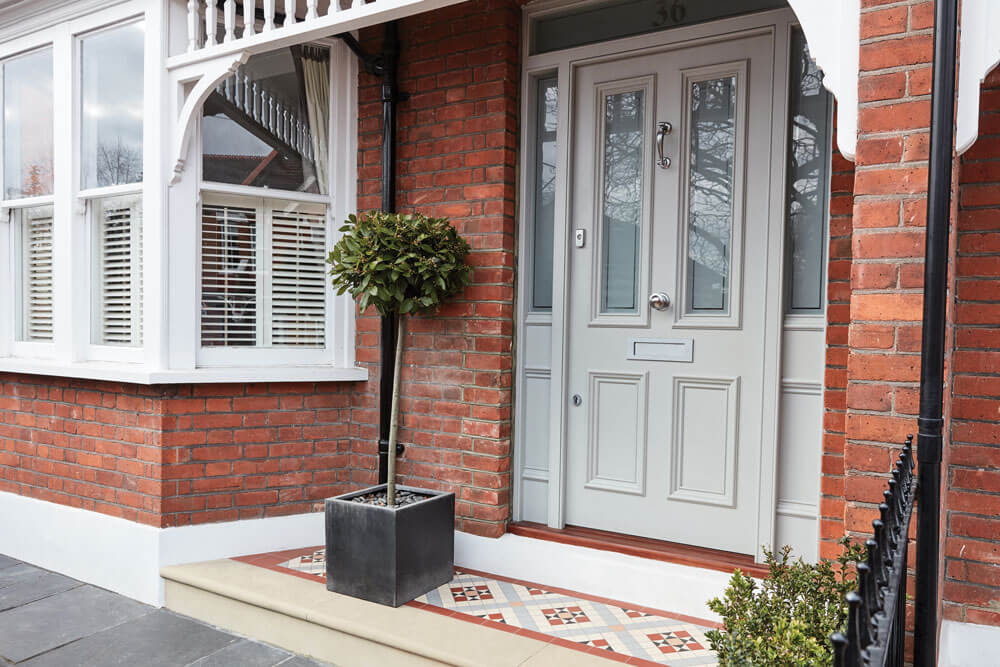 Many Victorian doors were panelled with highly polished brass door furniture that would be kept in pristine condition. This was an era when people were starting to be more socially mobile, so first impressions really did count. Homeowners would often introduce ornate glazing or stained glass into fanlights or sidelights – essential sources of light in the days before electricity. Larger homes may have had a porch at the front with a part-glazed door. This allowed visitors to kick off their boots before entering the house and would also act as a form of insulation for the hallway.
Many homes from this period made a feature of their entrances, and this extended through to the hall. Some homes have original tiling which was often highly coloured with ornate patterns. Staircases were often statement pieces; highly polished dark wood with curved bannisters and brass stair rods holding carpet in place. Victorian homes are full of character and charm with high ceilings and well-proportioned rooms that lend themselves beautifully to today's tastes and trends.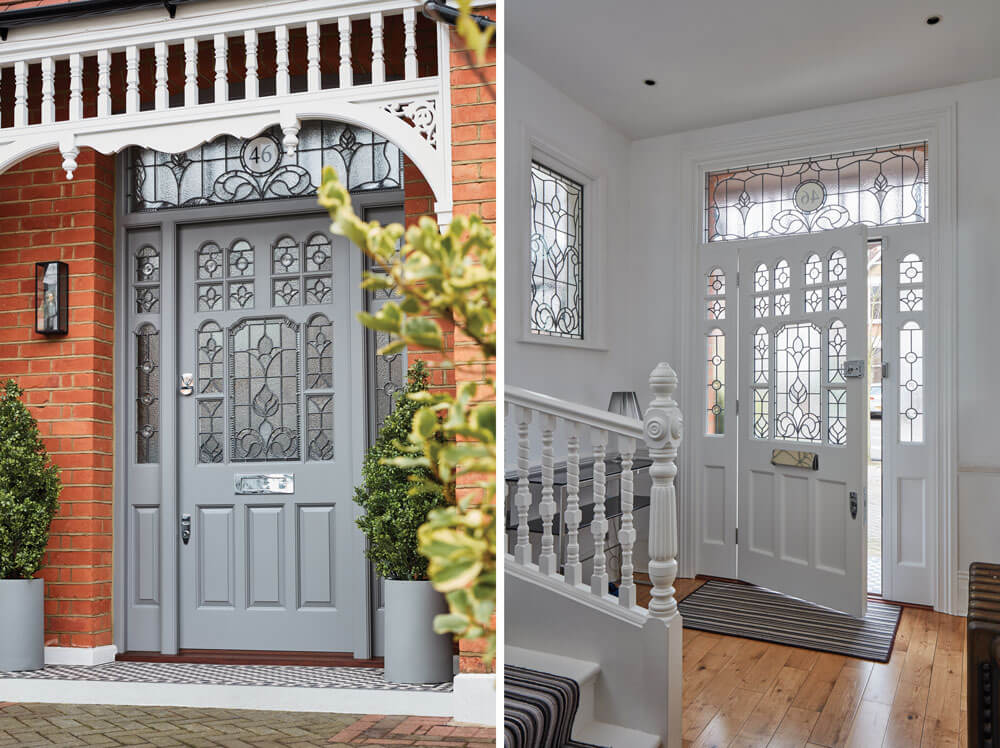 If you are recreating a Victorian home or renovating an original house, we have a few tips that could help.
The Victorian Door
It's the first thing visitors see and will set the tone for the rest of the home. Victorian doors were often elaborately carved with an imposing architrave to match the door – this is where homeowners liked to show-off their new found wealth. As glazing became less expensive and easier to manufacture, glass was also a favourite feature; the more intricate and brightly coloured, the better.
At London Door Company, our glaziers are experts at both restoring and recreating original glass in doors and fanlights – a typical feature of the Victorian era. Even on a smaller house the whole package of imposing front door, gleaming brasswork and immaculate paintwork would have been impressive.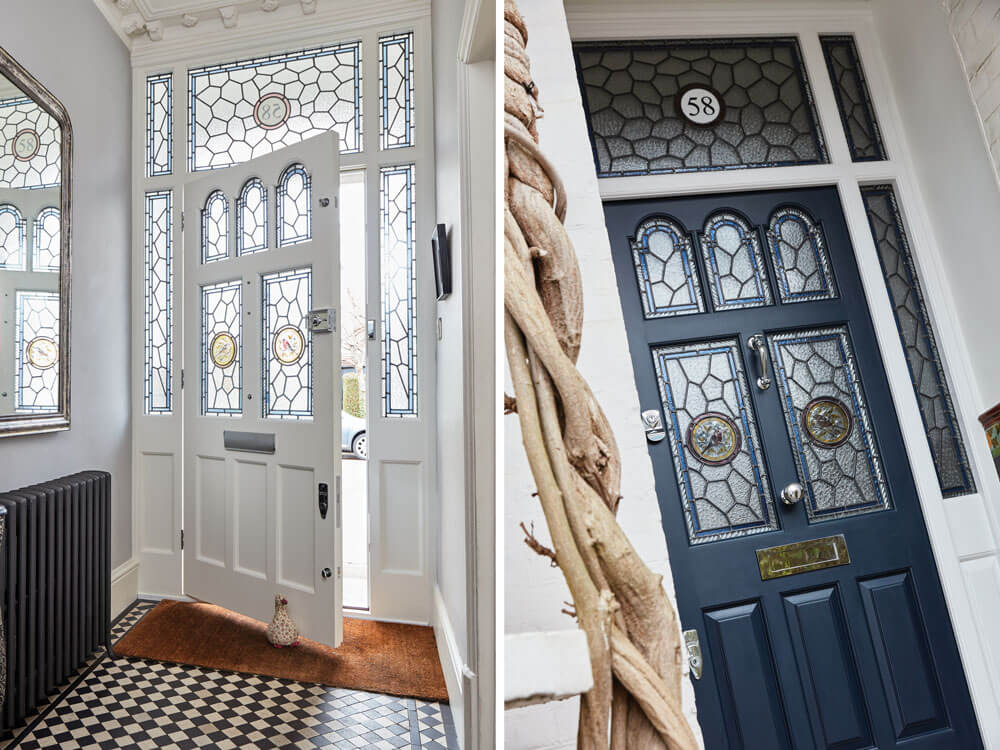 Our Victorian Front Doors and Their Traits
Victorian brickwork was typically red and rich in colour. This means that many doors from this era complemented the building work with deep colours such as dark green and lustrous maroon. At London Door Company, we have a palette of authentic paint colours from the period – once you've chosen a colour, our craftsmen will then hand-paint your door for a high-quality finish.
Often, stone or ceramic tiling led from the garden gate, in a straight line to the front doorstep. The doorstep might be covered by a porch, which would also be tiled. There, you'd be faced with a beautiful, solid wood, expertly constructed front door.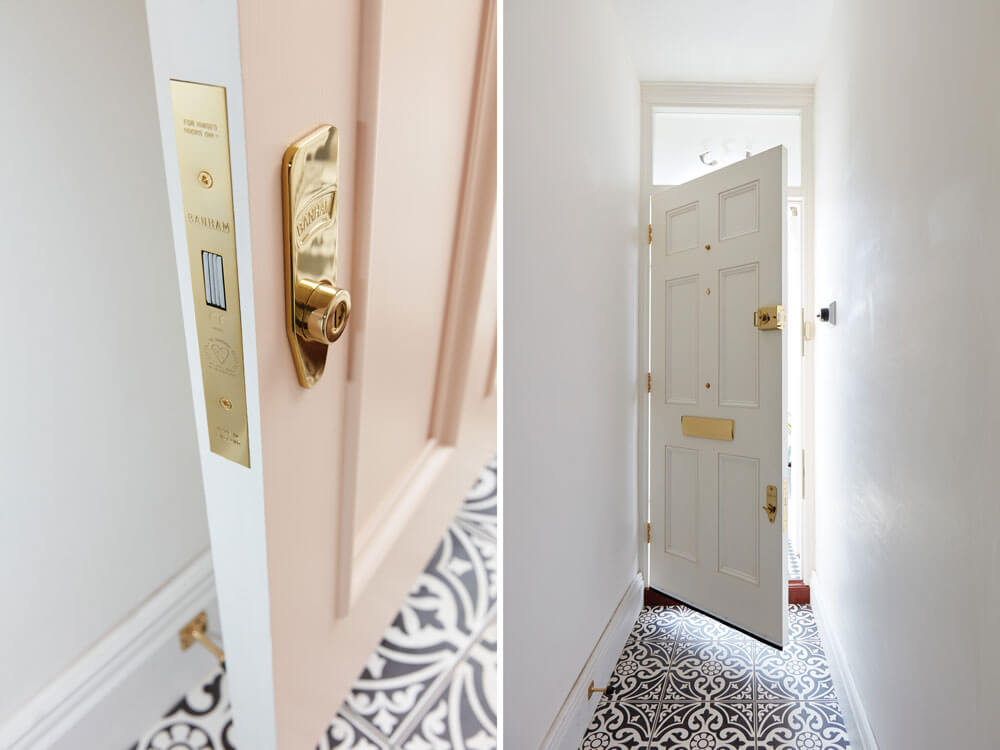 The Inside of Your Door Is Just as Important as the Outside
Once inside, a typical Victorian hallway can be quite dark, even if it's quite spacious. However, the inside of your front door is as important as the outside. So, to counter-balance the darkness, the inside of your Victorian front door could benefit from paintwork in a lighter colour that will reflect any light coming through the sidelights or fanlights. Keeping the hallway light and airy with pale-coloured décor, while retaining as much of its original character as possible is a great idea.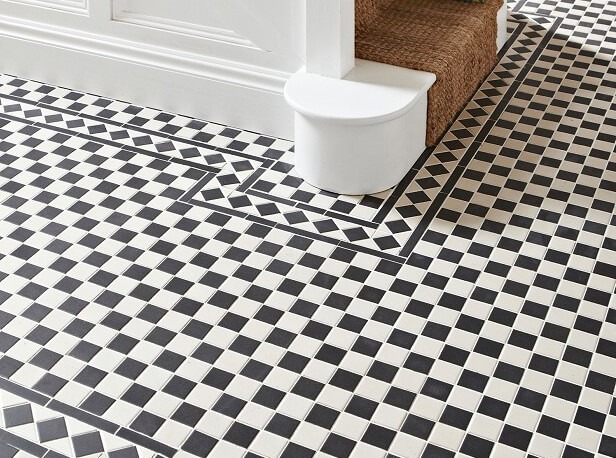 Tiles
Inside Victorian homes, it's typical to find original or reconstructed flooring. This was often highly patterned and very hardwearing, making it perfect for areas with heavy traffic such as hallways. Investing in tiles will give your Victorian home authenticity, and it's something that you can have fun with. Go for colours that tie in with your interior scheme and play with the patterns. While tiles were an expensive luxury for the Victorians, these days there's a bit more flexibility when it comes to flooring. If you're laying tiles from scratch, you could go from the front door, through the entrance and out into the kitchen or garden.
High Ceilings and Ornate Characteristics
Victorian hallways often feature impressive high ceilings punctuated with ornate cornices, plaster mouldings and ceiling roses. These ceiling heights created a sense of space, making narrow hallways appear larger than they really are. If you can, try to maintain original plasterwork as it's often difficult and expensive to replicate precisely; however, adding authentic features from reclamation yards could boost its value in the long-run. If your home features Victorian details such as these, regular maintenance and cleaning will minimise the cost of long term care.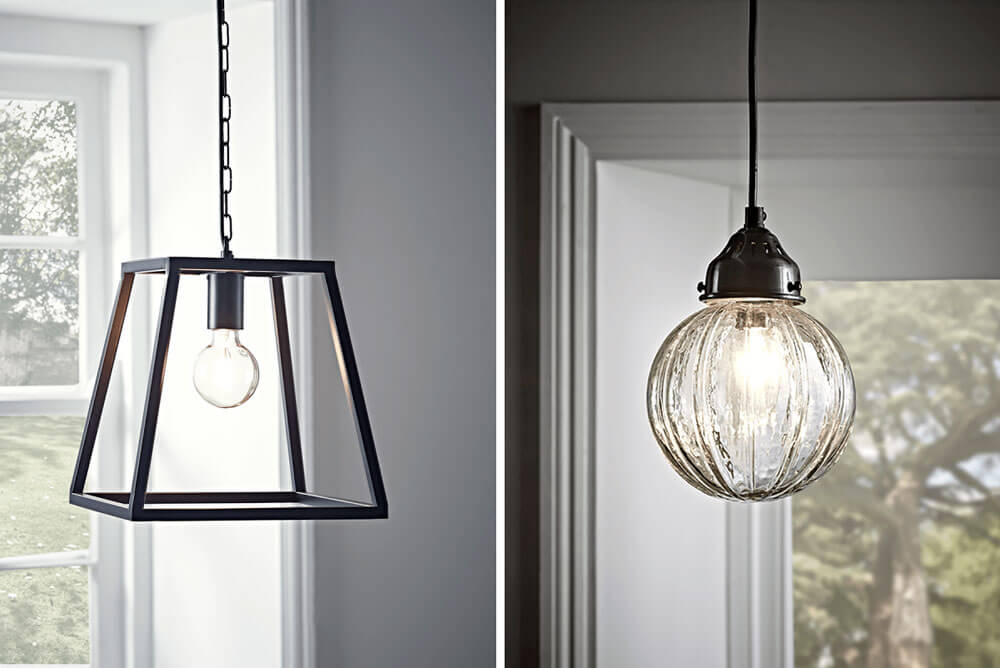 Lighting
Long, narrow hallways are 'very Victorian' so if yours conforms to this layout then you're on the right track. It presents opportunities rather than challenges because you can have fun with lighting. Add drama and character with picture lights or up-lighters. You could even set subtle spotlights into your floor or stair treads for a beautiful ambient glow that's not too intrusive. Using light colours and ornate mirrors will also help to reflect the light and create the illusion of space.
Our Three Hallway Hacks
Declutter
Your Victorian hallway can look immaculate with Victorian-inspired wallpaper and flooring but if you're introducing fuss or patterns, declutter. Make a list of the items you need to keep in the hallway and banish all others. Be ruthless – if it hasn't got a function or it doesn't enhance the look of your room, re-home it.
Storage
Invest in some great storage such as shoe racks, a hat stand or coat pegs. Make good use of the space under your stairs and keep the tops of side tables free of clutter such as keys and junk mail.
Décor
Gather and curate items that you want to display in one place. Think about beautiful glassware, artwork, mirrors or candles. Don't overdo it. If you have a hero piece, it's great to build your theme around that. Remember your hallway is where everyone gets their first glimpse of your home. Great design can make a positive lasting impression.
Ready to Take the Next Step?
To find out more about our extensive range of bespoke front door designs request our free 2019 brochure today.