Even if you're not thinking of selling your house in the immediate future, it pays to know how to add value to your home. Read our top tips on how to add value to your home and ultimately increase its overall appeal, whether that's with a new front door design, a fresh lick of paint or an impressive extension.
While you could update a bathroom or a kitchen, don't forget that the exterior is the first thing anyone will see. How your house is presented goes a long way to determine how much it's worth, so don't neglect the jobs that could increase its kerb appeal and add thousands.
First Impressions
Take a look at your external masonry. Does it look dated? Is the paintwork peeling? While you should never judge a book by its cover, a home that looks cared for on the outside is going to be more positively received by your visitors or potential buyers before they set foot inside. Give your render a fresh lick of paint, or clean dull and dirty stonework with a pressure washer. It'll be looking as good as new in no time, and your efforts could make your home stand out amongst neighbouring properties.
Increase Kerb Appeal with a New Front Door
The front door is the focal point of your home and the first thing that stands out when approaching a property. If you're looking for a new front door design one of our specialist designers will be happy to help you to select a style that will complement the original period or design of your property for a stunning end result. High-quality paint is also applied by hand to add visual appeal as well as to offer additional protection. You can choose from a beautiful range of paint colours, each one an opportunity to add kerb appeal and personality.
Adding a porch has many practical benefits such as keeping more heat in your home and being a place to take off outdoor coat and boots. Keeping the outdoors outside will help to keep your hallway looking smarter for longer.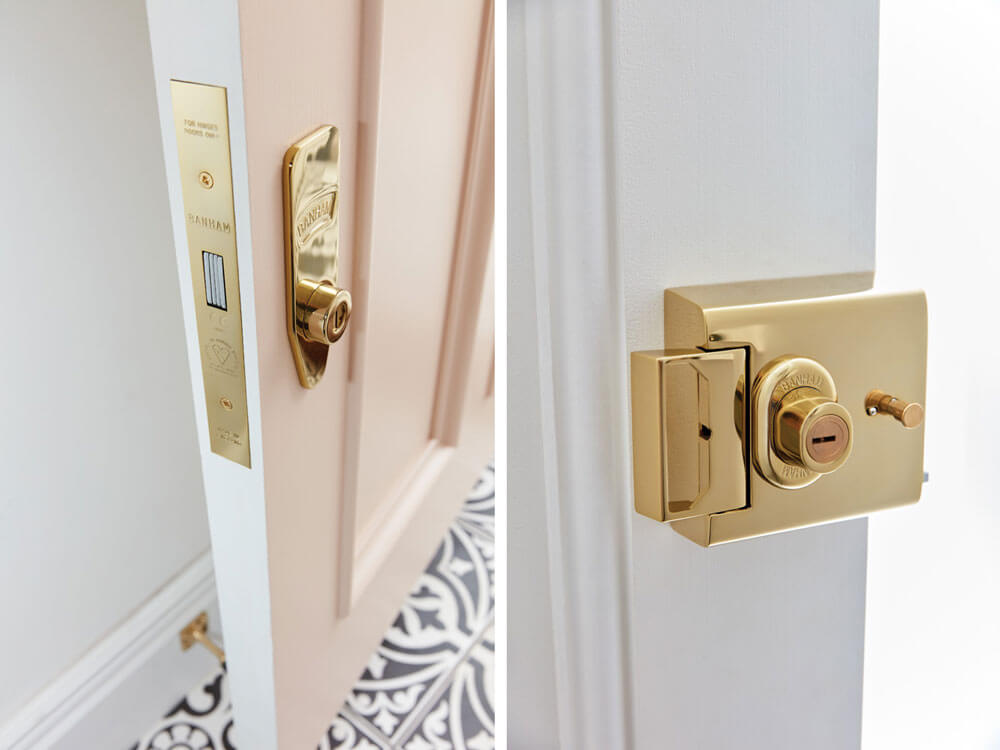 Updated Security
An important decision when purchasing a new home is whether you feel safe and secure within it. Investing in the security of your home will not only give you peace of mind, it may also increase its appeal to potential buyers in the future. When planning locks for your front door there's little point in cutting corners. Top of the range locks from manufacturers of the UK's most cutting-edge systems incorporate many additional security options such as spy holes, door chains and bars.
At London Door Company we will always advise you on the best security option for you. As well as thick, solid doors and a modern locking system we also consider toughened and strengthened glazing in your front door, French window or Patio. When considering domestic glazing ask if it is intruder proof.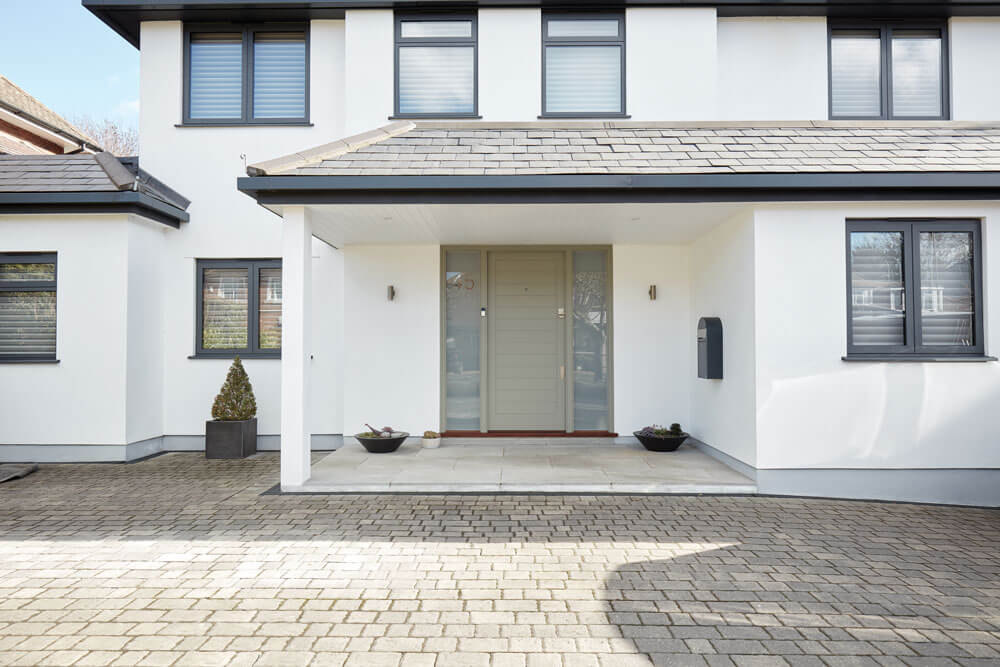 Parking Places
Many households, especially those with older children living at home, have to make room for more than one car so if you can offer multiple parking spaces, you'll have the edge on your neighbours. Unused patches of the front garden can be transformed into parking spaces by removing the garden wall and dropping the kerb. While you may need permission from your local authority to do this, it is worth applying if parking spaces are at a premium in your area. Similarly, neat and tidy driveways free from oily patches and weeds can transform the look of a home's exterior. Defining a driveway with cobblestones or adding a benefit like a car charging point can give your home the edge.
Light up Your Life
Adding statement lighting to the front of your home can give it a beautifully dramatic look. Consider flood lights shining upward to illuminate an impressive façade. Lamp posts at the gate and fitted lights around the porch serve a practical purpose – think about putting lights on a sensor so that they only come on when you need them to; reactive lights also enhance your security.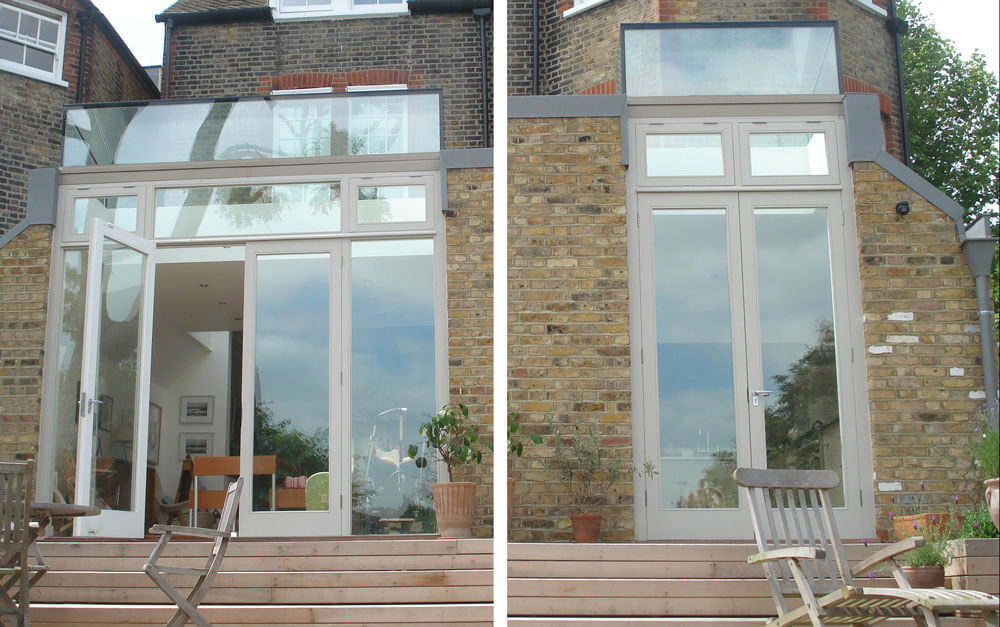 Extensions
Kitchen extensions are by far one of the most popular ways to add space and value to your home. However, adding a side extension or conservatory that looks out of place won't give a welcome first impression you are looking for.
Whatever type of extension you intend to add it's imperative it suits the style and period of your property. Research the time period of the home, the building style and the type of materials used. This will help ensure you keep a cohesive look for the house when making renovations. When planning an extension, it's also important to consider how much garden space it is going to take up and whether that impact will be a key player in the value of your home.
Complete Maintenance on a Regular Basis
Routine maintenance, such as cleaning and painting—especially on your building's exterior—will help minimize rot and the need for costly repairs. Making any necessary repairs to broken fences, gates or walls is also a good idea as first impressions really do count. These are just a few ideas to demonstrate how a little investment now can add real value to your home and pay for itself in the long term.
If you want to make the ultimate first impression, why not explore our full collection of stunning bespoke front doors today. Request your free brochure here.